Betting over/under win total prop bets, part 1: Pittsburgh Steelers, 8½
Wednesday, 26 May 2021 18:38 EST
With nothing more productive to do for a couple months, NFLbets will begin filling the spacetime with closer looks at several of the over/under win total proposition bet odds. Today's line:
Pittsburgh Steelers over/under 8½ wins (+105/-125)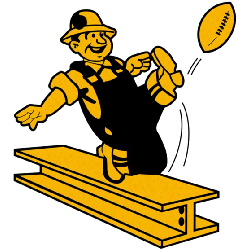 NFLbets will admit the truth: We've been waiting for the schedule – and thus this line – to come out ever since they ignominiously closed out their 2020 season on a 2-5 SU/ATS run backward. Absolutely certain we'd see the Steelers overrated and overvalued. Sure enough, the offerings were usually set at 8½ or 9, and so we're taking the under wholeheartedly.
Those with memory and/or attention span issues may forget that portentous backslide, might dimly recall the 11-0 opening SU win streak – and perhaps more impressively 9-2 ATS. All the historical record says that the Steelers went 12-4 SU in the regular season and finished first in a competitive AFC North. Further, since Mike Tomlin became head coach in 2007, Pittsburgh's never finished below .500.
All very impressive. Also mostly irrelevant.
Firstly, consider the schedule. By dint of first-place finish, the Steelers draw the Buffalo Bills, Seattle Seahawks and Tennessee Titans; the former could be quite a week 1 draw: Tomlin's Steelers have gone a decent 8-5-1 SU (though just 5-8-1 ATS) in week 1 games, but four losses and the tie were away games for an overall mark of 4-4-1; the Steelers kickoff at the Buffalo Bills in week 1. Since NFLbets is figuring on a downturn for Seattle and Tennessee, let's be generous and give Pittsburgh a 2-1 mark in these three games.
The Steelers got a break from the scheduling system in drawing the NFC North: The Lions are expect by the sportsbooks to finish as one of the worst two teams in the league, and the Green Bay Packers may be Rodgers-less and reaching deep (so to speak) for a starting quarterback. The Minnesota Vikings and Chicago Bears could go either way, so again say 3-1 for the Steelers.
Then are four games against the AFC West teams: week 2 vs Las Vegas, week 5 vs Denver, week 11 at the Chargers and week 16 at Kansas City. NFLbets'd be willing to take the Chargers and Chiefs in wins in these games right now; plus, these guys coming out of the block 5-1, only to collapse is hardly unimaginable – the Steelers get at Buffalo, vs Las Vegas, vs Cincinnati, vs Denver, vs Seattle – only to flame out at season's end. So we'll give the Steelers a 2-2 mark for these games.
But the real trouble in the Steelers schedule comes from within their own division.
Pittsburgh has gone 11-7-1 SU/11-8 ATS in all games against the AFC North since 2018 (choosing Baker Mayfield taking over as starting QB in Cleveland as an arbitrary starting point) against the three teams of the AFC North. The caveat here is the 5-1 SU mark against the Cincinnati Bengals, who should be giving Joe Burrow more weaponry and much more OL protection this season. And at 6-6-1 against the Ravens and the Browns, the Steelers trend to the edge of average against the above-average.
Are the 2021 Browns and Ravens better than .500? NFLbets figures absolutely so. If we're honest, we give the Steelers a 2-4 in-division mark at best.
This all totals to, naturally, a 9-8 mark, depending on how you feel about that week 6 SNF game against Seattle.
Looking specifically to these Steelers, we can first say that defense is rarely the main problem. Tomlin's Steelers have only four times failed to finish in the top 12 in points allowed and yards allowed – and three were 2013-2015.
The Pittsburgh offense, meanwhile, just ain't what it once was. First-round draft pick Najee Harris will be expected to immediately improve the non-existent running offense, which finished dead last season. Pittsburgh RBs were so breathtakingly efficient – topping 95 yards just once in the last 11 games – that all other 2020 Steelers statistics are warped. Maybe.
Diontae Johnson was second-high in receptions with 88, but saw his yards per catch plummet as defenses needed not fear the run. Johnson caught just 39 passes on 63 targets in the final six games. JuJu Smith-Schuster was re-signed in the offseason, but his third season was his worst statistically in most yardage areas. Chase Claypool was briefly a fantasy football darling after going for 110 yards and three TDs in week 4, but only caught five the rest of the way.
And utterly insane are a couple of numbers on Ben Roethlisberger's stat line, namely 608 attempts for 3,303 yards; in the two previous seasons that he went for more than 600 attempts, *he led the league in passing yardage*. Roethlisberger finished 16th in the stat category in 2020, 70 yards ahead of Teddy Bridgewater and 149 behind Jared Goff.
Again, it's impossible to separate the deleterious effect of getting next to nothing from the running game on Roethlisberger's passing. However, throwing 600-plus passes the season after one missed due to elbow surgery surely isn't positive in most scenarios. Plus there are these realities: Everyone (except Tom Brady) gets old, every dynasty (even Bill Belichick's New England Patriots') falls. Impressive winning streaks always terminate. Time always wins.
And in 2021, NFLbets that, for a little while, the Steelers' time is up. Take under 8½ wins for the Pittsburgh Steelers.