Betting over/under proposition bets, part 6: Tennessee Titans, 9½ wins
Friday, 11 June 2021 18:27 EST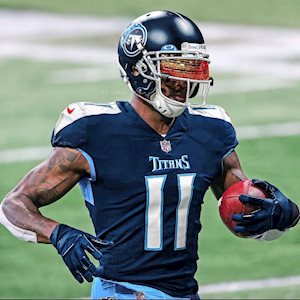 So you've certainly heard about the Tennessee Titans' acquisition of Julio Jones for, most significantly, a second-round pick in next year's NFL Draft. You may have additionally noticed that the Titans' odds in the "To Win Super Bowl LVI" have gone from as high as 50/1 to as low as 25/1 in some markets – insane!
Seriously, aren't NFL fans supposed to be obsessed with fantasy football? If so, why have Jones's deteriorating numbers and last year's injury gone unnoticed? Jones has been steadily getting fewer receptions nearly week to week since his last great year of 2018 – and that's as this QB Matt Ryan's completion stats increased for two straight seasons. How much effect can Jones have on an offense that's already top-10 in most key offensive categories?
Plus, the way NFLbets figures things, the only way the Titans get to the postseason is as AFC South winner: We've penciled in two AFC East (some combination of Buffalo Bills, Miami Dolphins and New England Patriots) and one AFC West (the "Los Angeles" Chargers as it stands or maybe the Las Vegas Raiders with Aaron Rodgers).
The question, then: Can the 2021 Tennessee Titans win the AFC South? NFLbets begins with the lines in the over/under proposition bet…
Tennessee Titans, over/under 9½ wins (+110/-130)
In the Mike Vrabel era, the Titans have come to embody the classic football cliché "offense wins games, defense wins championships." In Tennessee, a sputtering low-watt Marcus Mariota-led offense had given way to a top-10 high flyer behind the suddenly stunning Ryan Tannehill; on the other side, however, a hard-hitting top-10 defensive juggernaut has become a hapless bunch which allowed 30 points or more eight times in 2020.
Bu the Titans chased their shocking run to the AFC Championship game with an 11-5 regular season and a weak bowout to the Baltimore Ravens last year – though one should also note that the '20 Titans had 9.1 Pythagorean Expectation (PE) wins, indicating a net positive in the are of luck.
Or perhaps that's just the Derick Henry Effect, i.e. the dude's worth at least two wins a season. At least thus far.
The Titans ranked second in rushing yards last season behind only the Ravens, who start a quarterback with a license to run on any snap. Henry accounted for over 75% of Tennessee's rushing yards and just under 33% of all yards. Any would-be Titans backer will need to consider Henry's team-carrying capabilities in light of the 681 carries accrued over the past two seasons alone.
Considering the 2021 Tennessee Titans schedule
Naturally, the no. 1 advantage the Titans enjoy – along with the presumed main rivals – are the four games scheduled against the AFC South's bottom-feeders. Tempted to just give the Titans a 5-1 here, but playing this bet conservative, NFLbets can imagine a scenario when, likesay, the Jaguars squeak out their first win of 2021 in week 5 in Jacksonville or the Texans dodge an ignominious 0-17 regular season with a fluke W in week 18 in Houston. Call it 4½-1½ for the Titans' AFC South intradivisional games.
The NFL schedule makers seemingly give the Titans a decent chance to start strong with a run of vs Arizona, at Seattle, vs Indianapolis, at the Jets, at Jacksonville, vs Buffalo and vs Kansas City – Fair enough, that first seven games includes four playoff teams of last year, but three are at home. NFLbets'll again play this conservative as well and give Tennessee a 1-3 mark against the four non-AFC South teams here.
From week 8, Tennessee's schedule gets dicier for both the Titans themselves and those who bet the over in this prop. Week 9 has them going to Indianapolis, followed by at the Los Angeles Rams (for Sunday Night Football), vs New Orleans, vs Houston and at New England going into the bye. NFLbets'd cover the Rams minus the points in the week 10 game right now and we're predisposed to believing in the '21 Patriots, so we're assessing another two losses and a win here.
After the week 13 bye, Tennessee closes out the season with vs Jacksonville, at Pittsburgh, vs San Francisco, vs Miami and at Houston. (Imagine if that last Texans game is a make-or-breaker for the Titans. With a loss, does Vrabel get fired before he gets to the locker room or…?) NFLbets is figuring the Steelers' season will be finished by December, but the real question this far out is what the 49ers and Dolphins will look like at this point in the season.
The truth is that figuring several of these over/under win props, one cannot account for chaos. As much as NFLbets would like to wager against, likesay, the Titans by dint of an irrational feeling that Derrick Henry can't play at 2019-2020 levels yet again. And if you can tell us with any sort of certainty who either San Francisco or Miami will be starting on quarterback in weeks 16 and 17, well, please do. In the meantime, let's say the Titans get the win at Pittsburgh and one of the two aforementioned.
This all would put the Titans at 8-8-1, a believable enough scenario, as is the AFC South at least temporarily assuming the mantle of weakest division in football (in competition with the NFC North, we'd figure). NFLbets thus advises that bettors take under 9½ wins for the Tennessee Titans. Then again, we may lean back on our old dogma regarding this whole damn division, namely *stay the fuck away from the AFC South altogether*…
--written by Os Davis