Friday, 23 November 2018 09:52 EST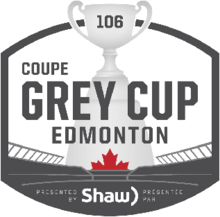 Despite NFLbets' so-so record and low earnings on Canadian football betting this year, we're going to miss the CFL over the next six months badly. Regardless of how much fun the NFL in 2018 is, as the sports world's talking heads so gushingly exhort to us, the CFL is always a breath of fresh air away from the stolid and conservative American game. This Thanksgiving weekend, NFLbets is thankful for another great season of CFL football – and that we came out ahead.
In any case, this weekend isn't about looking back but rather looking forward to the 106th Grey Cup, a rematch of the 104th: It's the Calgary Stampeders versus the Ottawa Redblacks, essentially the top two franchises, organizations/teams in the league in the 2010s.
Betting on the Grey Cup features not nearly as many proposition bet offerings as during the Super Bowl, but plenty of interesting proposition bets exist. NFLbets is factoring in these variables in picking wagers for this one. Keys to the game, as they say, are the following in our estimation.
• In two meetings this season, the Stampeders swept the Redblacks by a combined score of 51-7. In those games, Ottawa QB Trevor Harris was held to 4.5 yards per pass attempt while Calgary crushed the turnover battle by a margin of 10-3. True enough, these games were waaaaaaaaay back in June and July, weeks 3 and 5, but Harris did have all his primary "skill players" in the offense, including the Redblacks' three blue chip WRs Diontae Spencer, Greg Ellingson and Brad Sinopoli.
• Last week's West Division final saw the return of a Calgary defense whose first half represented a record setting pace but stumbled through November in allowing 26 points in a row to BC Lions, Saskatchewan and Winnipeg in games down the stretch. The Bombers who'd run up 29 on the Stamps in October were nowhere in evidence last week, as the Calgary D didn't allow a single play to advance over 27 yards, much less into the end zone.
• Thanks to this defense, serious ball control by the offense has allowed the Stampeders to cover their most serious weakness going into this game: Namely, the shredded receiving corps. In his nearly totally unexpected return to the field after an injury three weeks ago, Eric Rogers showcased both his own skill set and the secret to success of the Calgary passing game. While the CFL headlines were splashed with exclamations describing Rogers's three TDs – and justifiably so; heck, he outscored Winnipeg single-handedly (so to speak) – but the key stat was really his six total catches for just 61 yards. The Stamps' longest play from scrimmage went just 29 yards and the offense took just 48 snaps, yet had the ball for nearly 32½ minutes of possession time. This team plays slo-o-o-o-o-w when needs must, like when prospective NFL QB Bo Levi Mitchell has maybe three viable WRs.
• Outside of Ottawa, the RedBlacks are 5-4 SU and 6-3 ATS in 2018.
• RedBlacks DB John Rose will play, as his appeal regarding a league-mandated suspension for this game due to his shoving of a referee in the East Divisional final is pending. Rose was the Redblacks' second-high in tackles in the 2016 Grey Cup game, but NFLbets wonders if he won't feel the pressure to be on his absolutely best behavior…
• Finally, the all-important weather report. As of Friday, temperatures for kickoff are expected to be in the 20s Fahrenheit, with a mere 10% of precipitation. The Stamps will certainly be pleased to hear of the latter, as a couple of weather-induced freak plays cost them the 105th Grey Cup against the Toronto Argonauts.
Throwing it all into the NFLbets mega-calculator, i.e. editor/lead writer Os Davis's cerebellum, we're liking the following bets and props.
Calgary Stampeders -4½ vs Ottawa Redblacks, over/under 53½ points
These two lines would put the final score at Calgary, 29-24 or 29-25, which feels just about dead on. (Guess the oddsmakers are pros, eh?) The Stampeders were proven quite vulnerable in the season's second half, but in every loss this year, the opposition scored at least 27. NFLbets isn't at all sure where four to five true scoring opportunities will come from for Ottawa, particularly if the Stamps control the clock, playing an old-school field-position battle as last week (and the first seven games of the regular season, to be honest). We'll take the Calgary Stampeders -4½ vs Ottawa in the Grey Cup; we're calling this our Best Bet for the Grey Cup. Additionally, we'll cover the under on an O/U of 53½.
As is our usual wont, NFLbets will base the remainder of our wagers at least in part on this result, with perhaps a bit of hedging. All in baby! (Almost.)
Margin of victory
The more sensible, i.e. top halves, of the odds in the "Grey Cup: Margin of Victory" proposition bet look something like the following.
Calgary Stampeders win by 1-6 points: 3/1
Stampeders, 7-12: 17/4
Stampeders, 13-18: 6/1
Stampeders, 19-24: 9/1
Ottawa Redblacks win by 1-6 points: 4/1
Redblacks, 7-12: 15/2
Redblacks, 13-18: 14/1
Redblacks, 19-24: 22/1
A tricky one here, as NFLbets' two most believable scenarios, Stamps by 1-6 or by 7-12, both bring some great value. Since we've already got money on Calgary -4½, we'll recommend that bettors take the Stampeders to win by 7-12 points at 4/1. NFLbets will also be hedging a few Moneys (NFLbets' preferred form of currency) on the Redblacks by 1-6 points at 4/1 so as not to go home empty-handed with an Ottawa upset.
Race to 10 points
Some of the (relative) troubles the Stampeders had in the second half of the 2018 season are reflected in the first-half scoring: Though in the last three games, the Stamps "won" first halves by a combined 51-12, that socre drops to just 147-134. And it's certainly no coincidence that as Calgary got off to a 7-0 start, they outscored opponents in the first half six of those seven times.
In all 2018 games, the Stampeders would have won the "Race to 10 Points" prop 12 times in 21 games; however, just once did an East Division team beat Calgary to 10 points: the Hamilton Tiger-Cats in week 1.
As for the Redblacks, as NFLbets has noted virtually all season, they've certainly been among the most maddening for football bettors in 2018 – though the Tiger-Cats are right up there, too. They're currently on a four-game win streak, but with three Ws coming against Hamilton. Far too mercurial for most bettors, the Redblacks won a game this year with nothing but field goals and lost a game in which they scored 41. Too mercurial to predict on this one, so we'll consider them reactive to the Stamps' game plan.
The conclusion: If you believe that the Stamps' first-half defense of the season's first half has returned (based on, admittedly a small sample size of three games including two against the league's 6th and 9th best teams), like NFLbets, you'll take the Stampeders to score 10 points first at 8/13; not fantastic odds, but it says here that low payout beats no payout.
Highest scoring half
Your choices in the "Grey Cup 2018: Highest Scoring Half" proposition bet:
First half: 8/11
Second half: 21/20
A "tie": 25/1
The smart money suggests the first half is the best bet here, but NFLbets already has Moneys on one under-even odds bet. Bookmakers are probably figuring that, with both sides having recently played in the Grey Cup (with rosters still fairly representative of their respective Cup-playing teams), the feeling-out process that usually colors the opening 15 minutes of a championship football game will be non-existent.
The odd thing about these odds is that recently, games with either side have seen lots more points scored in the second half. Going back to week 19, second halves of Ottawa games "win" by an average "score" of 31-24; for Calgary games, it's a big 41-21 differential. In the two meetings between the clubs early in the season, each half "won" one game.
We're going with the odds and against the common wisdom of conservative game plans. The Stampeders may be playing their offensive schemes tight and close to the chest, but NFLbets reckons for both sides, it'll be the defenses coming out swinging in the first half. We're advising to take the second half as the higher scoring at 21/20 or so.
And as we bid adieu to the 2018 CFL season, we wish all bettors good luck in this final game. Damn are we goign to miss this league ... #IsItJuneYet?
NFLbets' CFL best bets record to date: 10-9.
CFL recommendations record to date: 14-11.
Overall record: 24-20.