Monday, 21 September 2020 17:44 EST
Sports fans in Las Vegas, rejoice! The majorest of all major sports leagues in North America, the National Football League, is coming to your city. Ironically, the Las Vegas (!) Raiders will probably less realistically contend than did your much-loved expansion Golden Knights, a.k.a. the greatest expansion franchise ever, but, hey – it's football!
So tonight, stand up and cheer for the literal NFL Opening Day in Las Vegas – but you'll have to do so from home, because that shiny new stadium will be without fans in attendance for Nevada's debut on Monday Night Football. And as this could well be among the most-heavily wagered-upon NFL regular season games at Vegas sportsbooks ever, NFLbets figured we'd throw a few moneys at
New Orleans Saints -4½ at Las Vegas Raiders, over/under 49½ points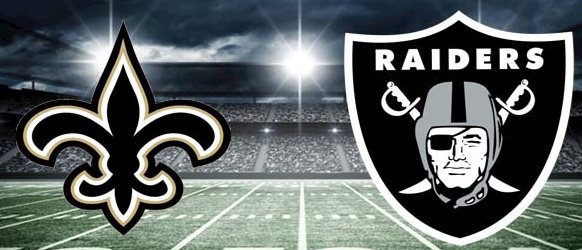 (See? Apparently heavy betting on the Raiders has shaved 2 points at some sportsbooks on this game as of noon Monday.)
First off, NFLbets believes that 2020 is a critical year for the Jon Gruden 2.0 Era in Oakland/Vegas. Since taking over the team in 2018, Chucky has attempted to transform the Raiders from Jack Del Rio's 6-10 defense-first team featuring DMVP Khalil Mack into the sort of point-scoring machine that Gruden 1.0 ran in 2000 and 2001.
The results have been underwhelming. Fair enough, Gruden has lived up to the "quarterback whisperer" reputation with Derek Carr, who had his personal statistical best season in 2019. Beyond this, his reconstructed OL reduced QB sacks from 55 sacks in '18 to 29 last season, ranking 6th overall and in pass protection as measured by Football Outsiders' DVOA metric. And scoring Josh Jacobs at no. 24 overall looks to go on as one of the great Raiders draft picks.
On the flip side, Gruden 2.0's Raiders have gone 12-21 SU and 15-18 ATS in his two seasons as head coach. The defense ranks bottom-5 against the pass, in pass rush and in generating turnovers in 2018, and was second-to-last in DVOA. Yet somehow, despite the bad defense and higher-scoring offense, the over in 2019 Oakland Raiders games was just 7-9.
So what to make of this vis-à-vis the Saints? NFLbets admits to some vulturism regarding Drew Brees as his get shorter and shakier week by week but even if the creakiness is pure subjective viewpoint, playing without Michael Thomas is a big minus for the Saints offense: Thomas represented 30% of all targets last season and just under 39% of the team's passing yards.
The injury bug hit the Raiders as well, RTs Trent Brown and Sam Young are both out, which will necessitate some switching of the line. The Saints defense doesn't always bring a scary pass rush, but last week kept the pressure on the essentially immobile Tom Brady last week, racking up 3 sacks and generally having their way with ol' TB after the Buccaneers' opening drive. Figure on pressure in the game coming from the right side though Carr can move better than Brady, he'll definitely be made to react early and often in this game.
But you know what? NFLbets chooses to have faith in the Quarterback Whisperer and his offense, believing that Carr et al can keep pace with an addled Saints passing game, at least through the first half. We'll take the over on an O/U of 49½ points and we'll lean on the East-to-West Coast for Prime Time factor to take the Las Vegas Raiders +4½ against New Orleans.
NFLbets' current record in 2020: 2-1-1.
–written by Os Davis