Have yourself a merry 3-sport parlay…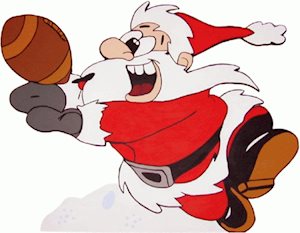 On first glance at the sports betting opportunities on Christmas Day 2020, bettors'd almost think that the schedule is purely a product of pandemic, but nope: The NBA on Christmas Day is yet another bit of David Stern's legacy as commissioner, the squall of college football's bowls started as usual in mid-December, and Friday Afternoon Football, well … okay, the NFL would schedule primetime games seven nights a week if possible.
Not that we're complaining, mind you: We've got some wacky recommendations from all three sports. NFLbets doesn't usually recommend betting any serious amounts on non-NFL games, but the single football game on offer isn't incredibly inspiring.
Minnesota Vikings +7 at New Orleans Saints, over/under 51 points
This line just looks too easy. In his well-publicized return, Drew Brees looked decent enough – particularly for a 40something with 11 broken ribs and all – and was helped along statistically by a Kansas City Chiefs defense that played slack in the fourth quarter. Nevertheless, the Saints took a second straight SU/ATS loss against KC and now most probably must win out to have any shot at a playoff bye week.
Speaking of playing slack, the Vikings officially played themselves out of playoff contention with a weak loss to the incredibly still relevant Chicago Bears with their second consecutive loss and third in five games. Said five-game stretch also included an overtime win after the Jacksonville Jaguars and has made for an 0-5 ATS record.
As if their tailspin weren't enough, Minnesota will be facing a couple of serious mismatches. The Vikings offense has put up a middling amount of points this season and is in fact top-5 in yards gained, but Kirk Cousins & Co. have been a team of Santa Clauses, giving away the gift of turnovers all season long; the Saints defense – currently ranked no. 2 in defensive DVOA – could enjoy quite the merry Christmas, indeed.
But the real issue for Minnesota could come on special teams. The Vikings have been shockingly bad in this area this season, culminating in Cordarelle Patterson's 104-yard kickoff return for the Bears on MNF and special teams coach Marwan Maalouf's public dressing down at Mike Zimmer's hands. Minnesota is currently dead last in both starting field position and opponents' starting field position; they're going up against a top-5 special teams unit on short rest, so not only should bettors be looking for special teams player proposition bets but also for the "Will Coach Zimmer's Head Explode?" prop.
Again, though, NFLbets is not digging that +7 – too many possibilities for garbage time points, no pressure on the Vikings (well, except for maybe Maalouf's guys). So we're saying take the under on an O/u of 51 points. Overs have gone 9-5 in both Saints and Vikings games this year. With the former coming off a high-energy game against the Chiefs and the latter on a short week, we can't imagine much scoreboard-spinning will be happening.
In college football betting, we're going to take the Buffalo Bulls -5½ vs the Marshall Thundering Herd in the Camilla Bowl. The Bulls played an abbreviated schedule, torching five Metro Atlantic Conference opponents before losing to Ball State in the MAC championship; Marshall has twice had their season interrupted for Covid concerns and are backing into this Bowl with back-to-back SU/ATS losses.
The key for Buffalo is the state of Jaret Patterson, who left the final game with a knee injury. Patterson has been absolutely monstrous during the short schedule, with an incredible 1,072 yards and *19* touchdowns in the six games – that's 178.0 yards and 3.33 TDs per game. Early Christmas morning reports say that Patterson will play, so the bet is clear.
Finally, among the slate of five NBA games, NFLbets believes the best bet is to take the Brooklyn Nets -3½ at the Boston Celtics. The Nets scored the biggest win of all the openers, topping the crushed Golden State Warriors by 26 points; there's a reason Brooklyn went from 12/1 to 6/1 odds to win this year's NBA title virtually overnight after the first appearances by Kevin Durant in the offseason hit the internet.
We believe the only reason this line is so low is the Celtics' nice 1-point win over the Milwaukee Bucks with twin 30-plus point performances from Jalen Brown and Jason Tatum – a badass showing, to be sure, but these Nets may actually be better than the Bucks this season.
Good luck, and have yourselves a fruitful little Christmas…
–written by Os Davis