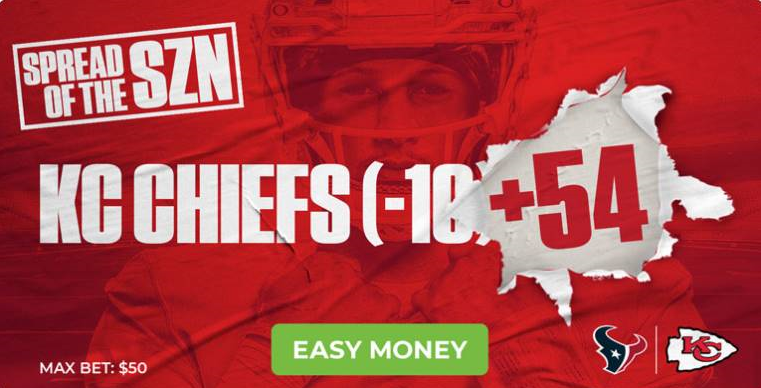 Celebrate the return of the NFL with Kansas City +54!
That's right +54 ATS vs Houston Texans.
What Is Kansas City +54?
On Thursday, September 10th, the reigning Super Bowl 54 Champion Kansas City Chiefs kick off the NFL season as 10-point favorites over the Houston Texans. To celebrate their championship and the return of football, we're boosting the line to +54 for a limited time only.
Place Your Kansas City +54 Bet
Why Bet Kansas City +54?
Because it's a lock! Throughout NFL history, only six teams have lost by 54 points or more. The Chiefs are led by Super Bowl MVP Patrick Mahomes, who has never lost by more than 7! This bet is the closest you'll come to a sure thing all season long!
What Is the Most You Can Bet?
You can bet up to $50.
Kansas City +54 is a thank you to all players who have chosen to continue to Bet With the Best this NFL season.
Winning SZN Returns, get this offer while you can. Make sure to take their 100% sign-up bonus as well. Good luck this season!
NFL Kansas City Chiefs Calendar Analysis
Unlike many Super Bowl champions in recent history, the Kansas City Chiefs (12-4 SU, 10-5-1 ATS) will have one of the best chances to repeat as league champs when the 2020 NFL regular season gets underway, with or without live fans in attendance. You see, one year after winning a dozen games en route to their first Super Bowl title of the Patrick Mahomes and Andy Reid era, Kansas City not only looks poised to challenge for this coming season's Super Bowl, but for years to come!
Sept. 10:
vs. Texans
The Texans will want to redeem themselves after their embarrassing, season-ending 51-31 blowout loss at the hands of the Chiefs in the wild card round last season, but it's not happening as Houston is asking superstar quarterback Deshaun Watson to do a bit too much in 2020. The prediction is Chiefs 38-20 and Mybookie is giving bettors the chance to grab their money at +54 on this momumental promotion. Grab it now!