Dre Greenlaw Odds, Betting Trends and Props: May 2023
Dre Greenlaw is a 26 years old Linebacker at San Francisco 49ers
In the 15 seasons running from 2006 to '20, the worst team in week 3 was the Houston Texans at 3-12 SU/5-10 ATS. Four teams went 4-11 in the span: the Cleveland Browns (8-6-1 ATS), Tampa Bay Buccaneers (7-8 ATS), Arizona Cardinals (5-10 ATS) and San Francisco 49ers (5-10 ATS). The worst team to bet, however, was the Los Angeles Chargers, who went such 3-10-1 in the span.
Dre Greenlaw Betting News for May 2023
49ers-Seahawks Inactives: Dre Greenlaw, Aaron Banks a Go in Wild Card Game
Quarterback Jimmy Garoppolo and cornerback Amrby Thomas are ruled out of San Francisco's wild-card game against Seattle. Dre Greenlaw and Aaron Banks are fully fit to play. Kevin Givens, who suffered an MCL injury in Week 14, is a full go.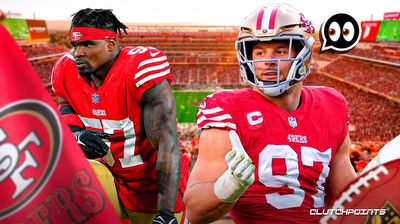 Dre Greenlaw injury: Nick Bosa to be fired up with 49ers LB update
The San Francisco 49ers are the favorites to beat Seattle Seahawks in the NFC Wild-Card Round on Saturday in Santa Clara. 49er linebacker Dre Greenlaw missed the team's regular-season finale game against the Arizona Cardinals with a back injury. GreenLaw returned to practice on a limited capacity on Tuesday.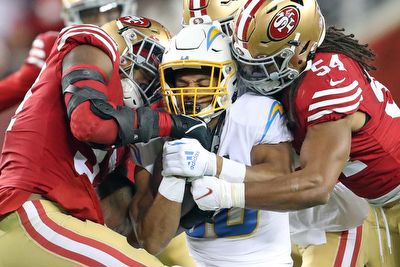 How close are Fred Warner and Dre Greenlaw to becoming 49ers' all-time linebacking duo?
Fred Warner and Dre Greenlaw are playing well together for the San Francisco 49ers in 2022. Warner was selected to his second Pro Bowl in three seasons. Green Law was drafted in the third round out of BYU in 2018. He has been one of the 49er's most important players this season. He made 114 tackles, six passes defensed, an interception, two forced fumbles and two fumble recoveries. His most memorable hit came in Seattle that decided NFC West title. The rookie's stop of tight end Jacob Hollister just inches from the goal line, in final seconds, preserved a 26-21 victory.