NFC West proposition bets
Monday, 06 August 2018 10:31 EST
Who's ready to start betting NFL proposition bets for 2018? During training camp, NFLbets brings you our takes on the "Over/Under Wins" and "To Win Division" props for the upcoming season. For a compilation of the sportsbooks' projected finish for all 32 teams based on over/under wins lines, click here.
For no good reason, we'll start with the NFC West, with some of the seemingly easier picks on offer. (Gods, are NFL bettors going to miss a world in which the Seattle Seahawks are so prominently featured yet so consistently underrated – or overrated…)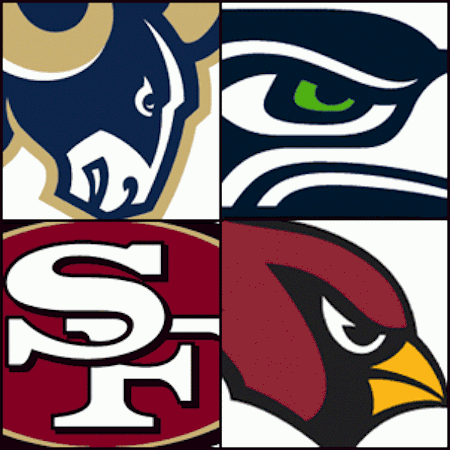 Let's go to the big board for some lines and odds:
| NFC West | O/U wins | to win division | (current) |
| --- | --- | --- | --- |
| Los Angeles Rams | 10½ | -120 | -135 |
| San Francisco 49ers | 8½ | +260 | +280 |
| Seattle Seahawks | 7 | +375 | +400 |
| Arizona Cardinals | 7 | +1100 | +1500 |
Immediate observation: While maybe 2½ weeks into camps, the only team trending upward in the NFC West is the Los Angeles Rams. And why not? The Rams killed it this offseason, adding Nadmokung Suh (only the league's scariest dude) and Marcus Peters (only the league's best cornerback) to an already exciting, DVOA-leading, DMVP Aaron Donald-having defense. Supplementing these internet-breakers are LB Ramik Wilson plus CBs Sam Shields and Aquib Talib.
To go full dad for a moment here, defense wins championships (um, excepting last year's Super Bowl … or really any title game involving those New England Patriots…) and thus the Rams at 29/5 to win the NFC championship and 9/1 to win Super Bowl LIII look like pretty decent bets, as is L.A. taking the NFC West at -135 or so. However, NFLbets is getting a bit more pragmatic here, and the key question is: Over or under on the 10½ wins prop?
By dint of last year's division-topping performance, the Rams' 2018 dance card features a number of expected playoff teams: They'll go vs the Los Angeles Chargers, vs the Minnesota Vikings, at Denver, vs the Green Bay Packers, at the New Orleans Saints, vs the Kansas City Chiefs, vs the Philadelphia Eagles and the home-and-home against the plucky upstarts, Jimmy and the Niners. On the other hand, every single one of the aforementioned games will be played in fair weather or a dome. Even if the Rams lose half of these more difficult games, that's still good for a 12-4 record. NFLbets advises taking the L.A. Rams over 10½ wins.
But that's not the best bet in the NFC West: those would be the San Francisco 49ers over/under 8½ wins and Seattle Seahawks over/under 8 wins. If ever a team had "upswing" written all over it, it'd be the 2018 49ers; and while the Seahawks are destined for a sub-.500 season, NFL bettors will happily get to exploit Seattle at the sportsbook.
Make no bones about it: NFLbets wouldn't advise taking either of these teams to win the NFC West – though if something (or many somethings) calamitous goes down in Rams camp, the Niners will make an excellent hedge bet – but both are solid plays in the "Over/Under Regular-Season Wins" prop.
Beyond the whoa-nelly signing of Richard Sherman, San Francisco GM Mike Lynch went low profile (e.g. signing DE/OLB Jeremiah Attaochu, OL Jonathan Cooper) this past offseason after pinning down wunderkind QB Jimmy Garoppolo to a multiyear deal. Now Jimmy G. may turn the ball over a bit frequently, but the truth is that this team is 100% behind their franchise QB of the future, and that means much in the emotional game of football. This could be one high-scoring offense, enough to make the Niners at least a half-game better than .500.
Too abstract for you to bet on? Fine. Let's look at the schedule again.
For essentially the first half of 2018, the Niners will be tested, but check out what happens in week 8: A stretch that run at Arizona Cardinals, vs. Oakland Raiders, vs. New York Giants, bye week, at Tampa Bay Buccaneers, at Seattle, vs Denver Broncos, vs Seattle and vs Chicago Bears before closing at Los Angeles in what could very well be yet another meaningless (for the Rams, though not necessarily the 49ers nor the NFL bettors) week 17 contest. So yes, NFLbets says take the San Francisco 49ers over 8½ wins.
And in Seattle, a transitional period begins. By all appearances, Pete Carroll is losing his players' devotion. The 'Hawks have been hemorrhaging free agents since the Super Bowl XLiX loss and have never found the correct mix of "skill players" on the offense since Beast Mode was GAME OVER in Seattle. The departure of future Hall of Famer/team emotional core Richard Sherman was the final sign that, at least for the nonce, the Seahawks are a team in decline.
The over/under proposition bet line of 8 wins for the 2018 Seahawks is clearly based in reputation and gambler attraction. Isn't it fantastic that, after making so many NFL bettors happy by twice winning the Super Bowl ATS in the 2010s, Seattle is offering any chance at big easy money? Take the Seattle Seahwaks under 8 wins.
Last and certainly least come the Arizona Cardinals. For the 2018 version of the Cards, remove "transition" and "transitional" from your vocabulary and start talking process. This team could well be Cleveland Browns-level bad in '18, and we're thinking a trade of David Johnson and/or Larry Fitzgerald is in the works by season's end as Arizona enters full-on tank mode. A line of 7 in the "over/under wins" prop is ridiculous – just for starters, how can the Cardinals *not* go 0-6 against the NFC West? Take the Arizona Cardinals to go under 7 wins.
NFLbets' best bets for NFC West betting: San Francisco 49ers over 8½ wins; Seattle Seahawks under 8 wins; Arizona Cardinals under 7 wins; Los Angeles Rams to win NFC West at -135 (preferably as part of a parlay).
NFLbets' recommendations for NFC West betting: Los Angeles Rams over 10½ wins.