NFL Kickoff Game: Recommendations if you really must bet (but realize you're basically gambling)
Thursday, 06 September 2018 15:25 EST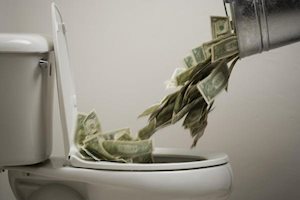 This is NFLbets' NFL Betting Tip #3: Do not bet in week one. The principle goes double for the NFL Kickoff Game, on which way too many NFL bettors traditionally tend to believe that the current season will be very much like the previous (spoiler: It won't be) and wager real money accordingly.
If you realize that there is a high (high!) element of luck involved in betting NFL Kickoff Games, fine – skip to the end of this column to consider NFLbets' lukewarm recommendation. For everyone else, it's ranting time…
The doublethink about preseason NFL football
A strange sort of doublethink take over the pervades the NFL bettor's mind going into week 1. While he/she has spent the past month or two railing about he useless nature of preseason games, of watching games with never-weres that you'll never see play again, of competition between 10 players for the 53rd spot on the roster. And even most viewers of Hard Knocks would admit that, by its very nature as "reality" tv, much of what makes the HBO-screened episodes is staged and/or exaggerated.
Yet … yet way too many will throw money based on "evidence" from the offseason. Preposterous! How can one believe that preseason games are useless but simultaneously believe real information has been gleaned? How can one freely admit that extremely little actual football comprises each episode of Hard Knocks but also insight they've gained insight worth squandering money on? Come on!
The X-factor in week 1 of the NFL: Only about 29 teams Think about it: How many teams will reveal far more in week 1 about the season ahead than at any point in the pre- or regular season? Answer: The great majority, if not all.
Just off the top of NFLbets' head here … the ostensibly Super Bowl-contending Minnesota Vikings have switched quarterbacks, while the Indianapolis Colts welcome one back they haven't seen in two years and the Houston Texans return a QB whose incredible rookie season was interrupted. How will these offenses work? How good is the revamped Cleveland Browns roster? How bad is the Dallas Cowboys' wide receiver corps? And how about those Rams? (Recall that most of L.A.'s blue-chippers played not a down in the offseason, yet they're second-favorite at most sportsbooks to win the Lombardi in February.)
The answer to all these questions is pure conjecture – until the week 1 results are in
Vegas is much better at this than you are
Easy picks in the NFL Kickoff Game? Come on! Vegas is smarter than you are on opening night, and it's not even close.
Sure, home teams are 12-2 SU in this game since the traditional Thursday night opener has featured the defending Super Bowl champions – but ATS, the home teams/defending Super Bowl Champions/favorites are a more realistic 7-4-4. Decreasing the sample size makes things for NFL bettors look even worse: Favorites are just 3-3-2 in the last eight and have lost the last two games ATS.
The point here: The sportsbooks probably do far better in opening week than their customers. If you insist on covering the Philadelphia Eagles minus the points tonight, they'd better be blowing out the Falcons by the end of the first, like 14-0, or you may as well throw your ticket away at halftime and enjoy the inevitable ensuing 1-point SU Eagles win.
Just don't do it.
If you must bet, our pick
All signs in the immediate short term, likesay tonight, point in the Atlanta Falcons' favor. WRs Alshon Jeffery and Mack Hollins are out due to injury; CB Deiondré Hall and LB Nigel Bradham will miss due to suspension. DE Michael Bennett as well as RBs Jay Ajayi and Corey Clement will play hurt. And of course in lieu of the still-recovering Carson Wentz is Nick Foles, who likely turned back into a pumpkin a short while after the Super Bowl limelight faded.
So NFLbets is thinking about taking the Falcons, particularly with so much action coming in on the Eagles to move this line from as high as Falcons -5½ to as low as -1 – essentially a pick 'em – on game day, but one tiny fact remains in our collective face: WE REALLY DON'T KNOW ENOUGH ABOUT THIS TEAM YET. On top of this, NFLets is verrrrrrrry suspicious about all the hype being thrown this Falcons offense supposedly ready to recapture the stat-bending 2016 season.
Except Steve Sarkasian is still the offensive coordinator and, despite shaving an average of over 12 points per game from this offense's output, should still be expected to provide competence at best, but this team ain't spinning any scoreboards – particularly against stingy pass defenses like the Eagles' (appears to be).
So while NFLbets is kinda thinking the Falcons SU and/or -1 might be worth a flutter, we're thinking the better bet, with one offense hurting and the other Sarkasianed, is to take the under on an O/U of 44½ points – but you really shouldn't be betting in week 1 at all.
Don't say we didn't warn you…