NFLbets 2021 Mock Draft, picks 1-16: Can rationality really win out?
Wednesday, 14 April 2021 16:30 EST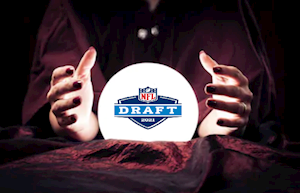 The uncertainty is palpable. Also out of control.
Mock drafts from the NFL Network's Peter Schrager and CBS Sports have the New England Patriots trading up to no. 4 to take a QB -- but Schrager's got the Pats taking Justin Fields (OSU) while CBS has them drafting ... Trey Lance? (NFLbets hasn't heard that particular rumor before, but ok…) Maurice Jones-Drew, meanwhile, has New England trading up to no. 7 to get Mac Jones, based in part on the reputed Belichick-Saban bromance.
And that's just the Patriots. By the time the mass-consciousness has gotten to pick #4, chaos theory has already set in. A wave of Kyle Pitts-as-potential-GOAT stories crashed in and ebbed, with some figuring that the Falcons would pass on a generational talent like Pitts, not to mention immediate offensive starters WR Ja'Marr Chase, OL Penei Swell and OL Rashawn Slater for the sake of trading out of, at minimum, the top 9.
Some even figure Atlanta to be taking a quarterback -- directly after Matt Ryan restructured his contract over the next three years after racking up the NFL's third-most passing yards in 2020.
The Cincinnati Bengals, Miami Dolphins and Detroit Lions at 5, 6 and 7, respectively, are each looking at a blue-chipper no matter which is selected where and for various reasons could flip a coin between available offensive linemen and wide receivers.
Then there come the Carolna Panthers. With Sam Darnold newly signed in no small part so that the no. 8 overall pick wouldn't be expended on a quarterback, Teddy Bridgewater as backup, enough top WRs on the roster to eschew drafting, likesay, Devonta Smith, anything goes here. Most reckon that Carolina trades down here, but they could make certain other teams' lives miserable by snapping up a QB or top defensive prospect LB Micah Parsons...
Looming in the middle are the Las Vegas Raiders and New England Patriots at no. 14 and 15, both of which go for the obscure or unexpected on draft day one.
And so it goes. Maybe it's just NFLbets here, but mock drafts in 2021 seems particularlhy beholden to guesswork. Maybe it's due to hype or unknowns due to covid-shortened college seasons, but every pick in the mock draft feels like a step through a minefield -- at least after nos. 1 and 2 are off the board. So here goes nothing ... or half of nothing. Below runs the Official NFLbets 2021 NFL Mock Draft, round one (part one) follows.
1. QB Trevor Lawrence (Clemson) to the Jacksonville Jaguars.
2. QB Zach Wilson (BYU) to the New York Jets. Already well-established done deals.
3. QB Mac Jones (Alabama) to the San Francisco 49ers. For a while, NFLbets figured that the 49ers might be considering Justin Fields here, but with Jones plummeting to -175 or so in "To Be Drafted 3rd" proposition bets. NFLbets realizes that we'll have to hedge against our earlier wager that Fields might be drafted here.
Concomitant prediction: Jimmy Garoppolo is traded on Draft Day day one with, likesay, a second-round pick for the Patriots' no. 16. The reports out of San Francisco and New England camps that Jimmy G. trade talks are off are the real smokescreen here, designed to keep media from continuously asking about the possibility.
4. TE Kyle Pitts (Florida) to the Atlanta Falcons. The three primary TEs in the past two Super Bowls were guys anemd Rob Gronkowski, Travis Kelce and George Kittle. Given the exponentially increasing importance of the TE, wouldn't you have to draft the guy who can be mentioned in the same paragraph as the three aforementioned? Of course you would.
5. OL Penei Sewell (Oregon) to the Cincinnati Bengals. Can the Bengals soberly choose the abasolute specimen to protect Joe Burrow or will they go for the Bacchanalian delight of giving their stud QB a WR toy? We're syaing the Cincy brain trust makes the rational move, though possibly a stretch.
6. WR Ja-Marr Chase (LSU) to the Miami Dolphins. Tua Tagovailoa and his dual offensive coordinators will have no excuses after having dispatched Ryan Fitzpatrick and added the 2021 NFL Draft class's most dynamic receiver.
7. OL Rashawn Slater (Northwestern) to the Detroit Lions. After cleaning house of front office and coaching staff, NFLbets figures the Lions are in for the long rebuild. A good start is shoring up the offensive line; those who watched Jared Goff with the Los Angeles Rams know, pass protection will be critical to Detroit's immediate success.
8. QB Trey Lance (NDSU) to the Washington Football Team (after trade with Carolina Panthers). Okay, here's your trade. Washington had made much noise about their admiration of Lance and with a defense like theirs, improving quite literally the NFL's first- or second-worst offense is the only priority.
9. QB Justin Fields (OSU) to the Denver Broncos. Broncos GM George Paton stated a month ago that "if the right quarterback falls to them … they're picking a quarterback." NFLbets thinks nothing much has changed since then and that any of the top 5 QBs still at no. 9 will be the right quarterback.
10. CB Patrick Surtain (Alabama) to the Dallas Cowboys. Jerry Jones is known for talking up guys whose moxie he likes. Sometimes, he's restrained (as in not drafting Johnny Manziel) and sometimes not (as in Morris Claiborne); this time 'round, perhaps the best Cowboys fans can hope for is that, with his current obsessions (reportedly Kyle Pitts and Trey Lance) out of reach by pick no. 10, the Dallas war room will have no choice but to just draft the best secondary player coming out of college instead.
11. LB Micah Parsons (Penn State) to the New York Giants. Since 2014, the Giants have gone, in order, WR, OT, CB, TE, RB, QB, DT, CB and OT with first round picks; they've drafted anywhere between no. 2 and no. 30 and always appear to simply draft the best athlete available. This has proven a decent strategy in snapping up the likes of Odell Beckham, Saquon Barkley, Dexter Lawrence and Andrew Thomas. With the same philosphy in mind, NBLbets is saying
12. WR Jaylen Waddle (Alabama) to the Philadelphia Eagles. The Eagles are certainly now in full rebuild mode and will look to get a playmaker for the offense. Waddle is probably the top "skill player" available at this point in the draft.
13. WR Devonta Smith (Alabama) to the the "Los Angeles" Chargers. The Chargers probably would rather go for an offensive lineman, but the dropoff from Sewell and Slater to The Field is steep. Plus, the thought of Justin Herbert tossing long balls to the Heisman Trophy-winning lowest-floor receiver in the draft has got to be enticing…
14. And there is where things traditionally go insane. Jon Gruden may appear to be obsessed with offense the other 360-some odd days of the year, but during draft days has a knack for making freakishly good first-round picks from out of nowhere. Starting with his very first choice after becoming Oakland Raiders head coach in 1998, Charles Woodson at no. 4, Chucky's first-round picks have either been solid college players (e.g. Michael Clayton, Davin Joseph and Gaines Adams) or surprisingly unorthodox and ultimately successful, especially Sebastian Janikowski (no. 17 in 2000) and Josh Jacobs (no. 24 in 2019). Cadillac Williams notwithstanding.
Making things a bit more certain is the Raiders' general knack for picking the fastest skill player remaining: WR Henry Ruggs, no. 12 overall in 2019, is the newest examples – just one year after selecting Jacobs. So with speed to burn at RB and WR already, we'll say it's superquick CB Jaycee Horn (South Carolina) to the the Las Vegas Raiders.
15. Edge Jaelan Phillips (Miami) to the San Francisco 49ers (after trade with New England Patriots). In any other year, Phillips – and probably one or two other DE/OLB types – would figure to be off the board by no. 15. In 2021, though, NFLbets reckons that this is where the deluge of edge rusher draftees begins.
16. OL Christian Darrisaw (Virginia Tech) to the Arizona Cardinals. Like the Chargers and Bengals, the Cardinals should probably be choosing between a flashy, sticky-handed wide receiver and a solid offensive lineman. With the big four WR prospects off the board, NFLbets gives the Cards brass the benefit of the doubt, guessing they won't reach for Rashod Bateman (Minnesota) or Elijah Moore (Ole Miss) and instead take the big 6'5", 315-pounder.
–written by Os Davis