Hard Knocks star bid means betting against Dallas Cowboys should be lucrative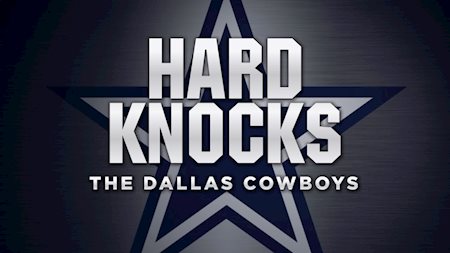 Look, don't even get NFLbets started on the perverse insipidity of so-called "reality tv," beginning with the oxymoronic term itself. Our opinion on the genre or specifically HBO's long-running series Hard Knocks is irrelevant for betting purposes – but the choice of the Dallas Cowboys as subject matter may well be good news for bettors, if not necessarily Cowboys backers.
The well-quoted statement from Hard Knocks senior coordinating producer Ken Rodgers begins with "America, America's game and America's Team had a tough 2020. I feel like this is a perfect happenstance of football, the Cowboys and hopefully the country.
"I'm sure the Cowboys want to put their difficult season behind them more than anyone."
In 2020, the Cowboys lost Dak Prescott for the season in week 5 but somehow stayed in the hunt for the NFC East title throughout while finishing 6-10, one game off the division-winning 7-9 Washington Football Team.
Dallas thus ultimately met the criteria for the HBO show, along with four other teams (more on this later). Said criteria have been well reiterated this past 24 hours, mostly by sites feeding trolls suggesting that Jerry Jones finagled his way onto the series; the rules exclude teams
with first-year head coaches;
who made the playoffs the last two seasons; and
which have already been on the show within the past 10 years.
Exceptions are occasionally made: In 2010, the New York Jets were put in the starring role despite the previous season's playoff appearance. And last year, "thanks" to Covid, HBO not only chose to focus on the preseasons of two teams, but included the Rams who'd recently both made the playoffs and appeared on the show.
Usually, though, the HBO brain trust is more than happy to choose from among the handful of teams left standing, with the formula ostensibly designed to catch teams on the rise to contender status, but more often than not wind up with a medium-quality franchise spinning its wheels. Here's how the 14 teams appearing in the 13 seasons of Hard Knocks have fared in the following season:
• 2007 Kansas City Chiefs: 4-12
• 2008 Dallas Cowboys: 9-7
• 2009 Cincinnati Bengals: 10-6, lost in wild-card game
• 2010 New York Jets: 11-5, lost in conference championship
• 2012 Miami Dolphins: 7-9
• 2013 Cincinnati Bengals: 11-5, lost at home in wild card game
• 2014 Atlanta Falcons: 6-10
• 2015 Houston Texans: 9-7, lost 30-0 at home in wild card game
• 2016 Los Angeles Rams: 4-12
• 2017 Tampa Bay Buccaneers: 5-11
• 2018 Cleveland Browns: 7-8-1
• 2019 Oakland Raiders: 7-9
• 2020 "Los Angeles" Chargers: 7-9
• 2020 Los Angeles Rams: 10-6, lost in divisional round
So there you have it: A composite record of 107-116-1 since 2007, for an average regular-season record between 7-8-1 and 8-8; concomitantly, eight of 14 Hard Knocks teams went on to play sub-.500 seasons. Worse yet, HK stars are just 3-5 SU/ATS in the postseason, and just two teams have won a playoff game at all: The '10 Jets and '20 Rams, i.e the exceptions to HBO's rules.
NFLbets is not (necessarily) suggesting some sort of causal relationship between doing reality tv and limited success the following season, but consider the other four team that, by dint of HBO's formula, were in the running for stardom in the 2021 season of Hard Knocks: the Arizona Cardinals, Carolina Panthers, Denver Broncos and New York Giants. NFLbets is as bullish on the Panthers in 2021, but is it the least bit difficult to imagine all five of HBO's candidates finishing 8-9 or worse?
And even with 14 teams in the playoffs this postseason, is it unreasonable to assume that any of the five would be overhyped enough to receive far too kind a point spread in the wildcard game?
(Maybe Hard Knocks is on to something with that formula…)
The advice to the NFL bettor is clear, then: Betting against the 2021 Dallas Cowboys– likely to get over-backed at sportsbooks from preseason over/under win total props to the playoffs – should at least break even in the regular season and has yet to lose against a classic Hard Knocks subject in the playoffs…
–written by Os Davis