NFLbets' over/under win total standings board
Monday, 17 May 2021 17:40 EST
Soon after the schedule for the NFL season is released, so too do major sportsbooks release the odds for each team's over/under win total, along with appropriate lines. NFLbets finds one useful exercise to undertake at this time is to compile the lines into a standings board. This not only reveals chinks in the odds' armor, but can help keep certain over/under wins bets in perspective.
First, consider the theoretical standings. In cases of a line involving a ½-game, NFLbets awards the team a tie. For in-division ties, the team with the shorter odds on the over/longer odds on the under "won" the tiebreaker. One * denotes a division winner, two denotes a wildcard team; only two wildcard teams are listed in the AFC, because there's no way NFLbets is undertaking logically guesstimating a four-way tie for the third and final wildcard slot in the AFC…
The table for the "Over/Under Wins" proposition bet looks as follows.
AFC East
Buffalo Bills* 10-6-1
Miami Dolphins 9-8-0
New England Patriots 9-8-0
New York Jets 6-11-0
AFC North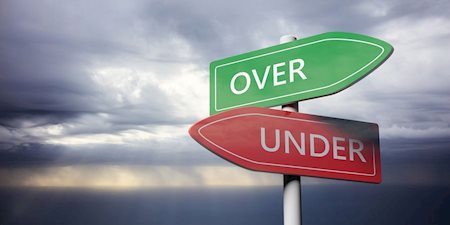 Baltimore Ravens* 11-6-0
Cleveland Browns** 10-7-0
Pittsburgh Steelers 9-8-0
Cincinnati Bengals 6-9-1
AFC South
Indianapolis Colts* 10-7-0
Tennessee Titans** 9-7-1
Jacksonville Jaguars 6-11-0
Houston Texans 5-12-0
AFC West
Kansas City Chiefs* 12-5-0
"Los Angeles" Chargers 9-8-0
Las Vegas Raiders 8-9-0
Denver Broncos 7-9-1
NFC East
Dallas Cowboys* 9-7-1
Washington FT 8-9-0
New York Giants 7-10-0
Philadelphia Eagles 7-10-0
NFC North
Green Bay Packers* 11-6-0
Minnesota Vikings 8-8-1
Chicago Bears 7-9-1
Detroit Lions 5-12-0
NFC South
Tampa Bay Buccaneers* 11-5-1
New Orleans Saints** 9-7-1
Carolina Panthers 7-9-1
Atlanta Falcons 7-10-0
NFC West
Los Angeles Rams* 10-6-1
San Francisco 49ers** 10-7-0
Seattle Seahawks** 10-7-0
Arizona Cardinals 8-9-0
Firstly, we may observe the fundamental weakness of preseason predictions of all sorts. Without benefit of time travel or magical powers of prognostication, the only solid information we have to go on for the upcoming season is … the prior season – despite the fact that this never happens.
Just look at the NFC side of this table: Sire. the sportsbooks reckon that the 49ers and Cowboys will make the playoffs rather than the Bears and Football Team, but everything else stays the same. As though the Saints will be running with the same quarterback. As though the NFC East teams will once again be struggling to play .500 ball. As though Russell Wilson's listing of teams he might want to go to just in case weren't a red flag. As though no key injuries will happen. Et cetera.
Some immediate thoughts from this table:
• Totaling up the totals shows that 9 more wins than losses are rewarded, meaning that under will be the better bet in most cases.
• With the Dolphins switching full-time to a QB who went 6-3 last season and arming him with a favored college receiver plus You Know Who's moves for the Patriots this offseason, the extent of your belief on how much of Buffalo's 2020 was lightning in a bottle will determine your personal feasibility of covering hte Bills in '21.
• The most ridiculous bet on this board has got to be the Packers at over/under 11 wins. This is happening at the same time that the Broncos have become a top-8 favorite to win the Super Bowl based on a rumor that the Green Bay QB is going there? Come on…
• Also tremendous bets in any season: Taking the under on any team you feel is the worst in the league. Very rarely do bettors see a 4½ or lower in this prop, and this season presents two delicious opportunities in the Lions and Texans. A weak division and fresh coaching staff might help the Lions after a reportedly toxic and obviously brutal 2020, but just look at the schedule and try to find five wins. And the Texans? That under's basically a best bet; Houston management is probably already scouting for the #1 pick in the 2022 draft.
–written by Os Davis