NFL Player Specials: Betting on the awesomeness of Todd Gurley, Ezekiel Elliott, Le'Veon Bell
Monday, 03 September 2018 10:01 EST
Admiral Ackbar may be right on this one ... NFLbets has stumbled upon a proposition bet offering that's way too good to true. Check out these six "NFL specials" bets – click "Show More" for dozens more of well crazier stuff that NFLbets'll probably deep-dive into very soon – and see if anything sticks out.
• Von Miller, Joey Bosa AND JJ Watt all to have 10+ sacks in Regular Season: 1/2

• Ezekiel Elliott OR Todd Gurley II have 15+ Rushing TDs: 11/10
• Todd Gurley II OR Le'Veon Bell have 15+ Rushing TDs: 13/8
• Keenan Allen, A.J. Green AND Michael Thomas all have 8+ Receiving TDs: 7/4
• Mitchell Trubisky OR Eli Manning throw 20+ Interceptions: 15/8
• A.J. Green, T.Y. Hilton AND Michael Thomas all have 8+ Receiving TDs: 23/10
I know, right? As tempting as throwing money at the Trubisky/Manning prop so to enjoy the thrill of seeing Eli throw three a game is, the obvious bet here is on those two "Rushing TDs" props involving Todd Gurley.
Simply put: There is a reason Gurley, Bell and Elliott are, in some order, the top three fantasy football first-round draft picks, and that reason is touchdowns. (And don't talk to me about David Johnson. First of all, if you're playing fantasy football, you're gambling and not properly betting anyway. Secondly, we're thinking Johnson has too many miles on the odometer and that the Cardinals are gonna flat-out suck.)
The case for Todd Gurley scoring 15 TDs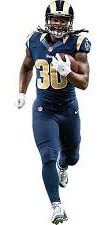 Great things are expected from the Rams this season, and much of the excitement around its new/old fandom centers on Gurley. Brandin Cooks's signing and Sammy Watkins's departure aside, the offensive side of the roster underwent few groundbreaking changes in the offseason. However, this side of the ball is all about continued evolution. The offensive line consists of dudes drafted back in the days of Jeff Fisher's St. Louis team (Rodger Saffold, Rob Havenstein) plus acquisitions (John Sullivan, Andrew Whitworth). Last year, the Rams OL ranked third in run blocking and should again supplement Gurley's beastly abilities.
In 2017, Todd Gurley led the league with 13 rushing touchdowns in 15 games played.
The case for Le'Veon Bell scoring 15 TDs
Finally, expectations are at usual, i.e. Super Bowl-contending, levels for Le'Veon Bell's Pittsburgh Steelers. Bookmakers and NFL bettors alike like the Steelers to tromp all over the NFC North again on the way to an AFC Championship appearance. (The same sportsbook website linked above also offers the NFL Team Specials prop bet "New England Patriots OR Pittsburgh Steelers Win the AFC Conference" at 10/11. Ridiculous.)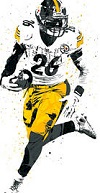 NFLbets ain't buying all the hype on this Pittsburgh team right now but would certainly back a lotta proposition bets involving individual "skill player" Steelers. We reckon these Steelers will have to be scoreboard spinners to compete in '18, a natural for this team's three statmasters, Bell chief among them.
Despite Bell's monster reputation in fantasy football, however, he's never scored more than 9 touchdowns on the ground. That season of nine came last year, when Bell was handed the ball an NFL-leading 321 times, an indication that the Steelers' Saints-like progression to a more run-heavy game plan as their quarterback ages continues. Of the top three seasons the Steelers have enjoyed since Ben Roethlisberger took over as quarterback, all have come in the past four years.
Much to Steelers fans and fantasy players' delight, we'll be getting even more Bell in 2018. Whether or not he can stay on the field is another question altogether, but Le'Veon Bell will certainly get his chances to live up to his end of this particular prop bet.
The case for Ezekiel Elliott scoring 15 TDs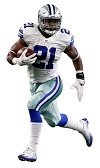 Expectations are well lower for the Dallas Cowboys, with their own aging offensive line and what could well be the worst WR in the league. ("Come back, Dez! All is forgiven!") Once fandom sees how feeble the Dallas "attack" beyond the legs of Elliott and improvisation of Dak Prescott is, NFLbets fully expects Cowboys fans to be reduced to a two-word vocabulary during games: "Feed Zeke. Feed Zeke."
In 2017, the Dallas Cowboys ranked no. 2 in rushing TDs and rushing yardage, no. 5 in attempts. Elliott went for 928 yards – 45% of the team's total rushing output – on 242 carries for 7 touchdowns in 10 games played. Over a 16-game season, Elliott's TDs for 2017 would have been just 11, though that's not necessarily a fair projection either for last season or this: Zeke lead the Cowboys in touchdowns despite his interrupted season, and no. 3 scorer/Hard Knocks cameo artist Dez Bryant is gone. Feed Zeke.
Bet these NFL player futures!
Bell may be the weakest link among the three RBs involved in these props, but the case for Elliott and especially Gurley is quite strong indeed. And even if Gurley goes down short of the goal, hedging on the Zeke/Gurley prop still gets you back up to exactly zero, covering the vigorish on both bets.
NFLbets says bet on the "Ezekiel Elliott OR Todd Gurley II to have 15+ Rushing TDs" and "Todd Gurley II OR Le'Veon Bell to have 15+ Rushing TDs: 13/8 at equal stakes. And repeat: "Feed Zeke/Gurley/Le'Veon!"