CFL Betting: Best bets and picks for week 13
Friday, 07 September 2018 15:17 EST
NFLbets will talk best bets and recommendations for CFL betting in week 13 shortly, but shameless self-promotion first. If you'd like to hear the first draft comments on these bets, along with likely more reasoned commentary by Os Davis' co-hosts Joe Pritchard and Dr. Rouge, please check out the latest episode of the Rouge, White & Blue CFL Podcast below.
And here's the expounded upon text version of NFLbets' picks for CFL week 13…
Ottawa RedBlacks +1 (down from 1½ or 2) at BC Lions, over/under 52. From the purely pragmatic bettor's perspective, the BC Lions have all the environmental pieces falling into place: They're coming off a bye week and playing at their home sweet West Coast home at night while the RedBlacks are a bad 3-7 ATS this far in 2018 – of course, at +1, this game is essentially a "pick 'em" anyway.
The smart money says bet BC Lions to win SU and/or minus the point if you're thinking about hedging against the one-point squeaker, figuring that old hand Wally Buono can craft a good game plan, particularly as the Redblacks eked our a mere four-point win in week 4 in the Canadian capitol.
But nope. NFLbets isn't touching that with a 3.048-meter pole. And the over/under? Forget that, too: Ottawa has scored 21 points in eight of 10 games, sure, but they've won SU/lost ATS with 24 and lost SU/won ATS with 44. O, and they scored 11 last week. Who can tell what this team will score?
The whole thing is so absurd, yours truly went with a tie result. The pick: Stay away from this one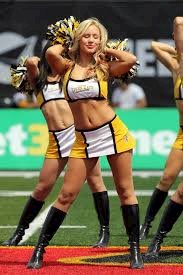 Hamilton Tiger-Cats -5(up from 5½) at Toronto Argonauts, over/under 53 points. When this same Tiger-Cats offense turned it on in the second half last week, the Argos were badly exposed on defense. On the other side of the ball, one-time CFL Cinderela QB McLeod Bethel-Thompson has turned back into a pumpkin.
The Ticats may finally have put it all together – at least on offense. WR Jalen Saunders is likely gone for the season's remainder after what appeared to be a pretty serious knee injury last week, but geez, Luke Tasker and Brandon Banks combined for 17 catches, 278 yards and 3 touchdowns in Toronto last week. So, yeah, this one could get ugly. Take the Hamilton Tiger-Cats -5 at Toronto
Saskatchewan Roughriders +3½ at Winnipeg Blue Bombers. The Roughriders may be the hottest team in the CFL right now, but the truth is – and NFLbets cannot get past this very simple fact: No team other than the Calgary Stampeders have manged to string together more than three wins in a row. We're betting on the trend working against the Riders this week, in time to punish Johnny Canadian Football and the Alouettes for their loss; incidentally, the Bombers are 4-1 SU and ATS. NFlbets will take the Winnipeg Blue Bombers -3½ vs Saskatchewan.
Calgary Stampeders -3 at Edmonton Eskimos. After a hard-hitting grind-it-out meeting between these two teams last week which had the Stamps winning SU with a last-second field-goal but losing ATS. The line for Edmonton's home turn has been adjusted accordingly.
Last week's seriously smashmouth action leaves both teams shorthanded at wide receiver for week 13, with Derel Walker out for the home team, and Kamar Jorden not suiting up for Calgary. Neither side can afford to lose anyone at the WR spots right now, regardless, but you've gotta figure the loss of Walker – one of the CFL's top-5 receivers for a good four years running – hurts Edmonton more than the already relatively low-watt Stamps offense suffers.
Still, can either team afford another week of similar play to last? We'd guess that the Stamps brain trust is not at all interested in seeing Bo Levi Mitchell get knocked out of the game for a second straight week, so might just air it out. Or both sides might rapidly crash the line with the RB like it's 1899. Very difficult to tell. We hate to be boring here, but the safe money stays away from this one,too.
Look at it this way: Between CFL week 13 and NFL week 1 – which you should never, ever bet – your bankroll will be well plump…
NFLbets' best bet for CFL betting in week 13:
• Hamilton Tiger-Cats -5 at Toronto.
NFLbets' recommendation for CFL betting in week 13:
• Winnipeg Blue Bombers =3½ at Saskatchewan Roughriders.
Best bets record to date: 5-4.
Picks-of-the-week record to date: 5-5.
Overall record: 10-9.