Our new contributor has stones enough to pick the Cleveland Browns versus Pittsubrgh in his first NFLbets piece
Saturday, 08 September 2018 09:48 EST
NFLbets welcomes a new staff writer coming aboard just in time to give some outrageous advice to bettors for the 2018 NFL season. Readers, meet Ryan Boonstra, who fearlessly starts his ternue with this website by arguing the case of none other than the Cleveland Browns against those world-beating Pittsburgh Steelers...
First off, no, I'm not crazy. But I believe that you absolutely should take the Cleveland Browns +4½ vs the Pittsburgh Steelers. I know the Browns have a long long long history of not winning opening week: They are a staggering 1-18 SU since returning to Cleveland in 1999. However, I firmly believe that this Browns team is the sleeper team to watch this season, and it starts in week 1.
Steelers: Lots of receiving, but who's running?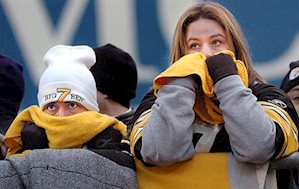 Pittsburgh's offense has been nothing short of brilliant on the field for the past couple of campaigns. Ben Roethlisberger headlines an offense consisting of Antonio Brown, JuJu Smith-Schuster and new draftee James Washington. That receiving duo must be among the best since Welker and Moss were catching bombs from Brady. Adding Washington to that mix gives the Steelers some dynamic options at receiver. This is key because it will be the biggest way they can pull out a big win against the Dog Pound.
At running back, Pittsburgh has a big problem, Le'Veon Bell once again has entered a contract dispute with the Steelers, resulting in him holding out week 1. This is a huge blow to their offense because it eliminates some of their mismatch capabilities against a young Browns defense. If they can exploit that defense in the air, they have a good chance of winning. Be that as it may, the Steelers' lack of running game might prove the Achilles heel that prevents a victory.
On defense, some lingering questions and concerns remain. The loss of Ryan Shazier to a devastating neck injury was a big blow, and Pittsburgh made a stop-gap acquisition of Jon Bostic but will that band-aid hold? The Steelers defense is very youthful, with a staggering seven of 12 starters under the age of 25. While that sets them up well for the future, it raises questions about how well they'll be able to produce over a season and right out of the gate.
Cleveland Browns: Changing for the better
The much-maligned Cleveland Browns enter a new season after coming off another embarrassing 2017 in which they went winless. Big changes were necessary and for the first time they actually went ahead and made drastic changes over the summer that should make an immediate and noticeable difference on the field and in the future.
On offense the Browns added veterans Jarvis Landry, Tyrod Taylor and Carlos Hyde to a group of young offensive talent and draftees that includes Antonio Callaway, Josh Gordon, David Njoko, Nick Chubb, Rashard Higgins, and Baker Mayfield. This represents an actual NFL team's starting offense. If Tyrod gets in a groove, he can be very dangerous,and this team has the weapons in its arsenal to do some damage. Look for the Browns to test the inexperienced Steelers secondary early and do some damage with their passing game.
Defensively the Browns, much like the Steelers, have questions. They have talent oozing out of their defensive line and secondary with players like Denzel Ward, Myles Garrett, Jabrill Peppers, Damarious Randall, and Emmanuel Ogbah, but it's young talent – extremely young. In spite of the youth, though, the coaching staff seems to believe they can get the job done, as most outside additions have been for depth purposes. These young players are all slated to be starters in 2018 and it will be interesting to see if that youth will be their strength or fault.
Al Villanueva: He can see Myles
At least one Steelers player appears worried about the Browns defense going into week 1:
#Steelers LT Al Villanueva w/ my fave line of the day: "I'm not worried about Le'Veon. I have enough to worry about w/ the #Browns' no. 95. Have you seen the Browns' no. 95?!"

Yes, I have seen Myles Garrett. And yes, I expect most every LT who sees him will worry about him.

— Aditi Kinkhabwala (@AKinkhabwala) September 3, 2018
Pittsburgh Steelers at Cleveland Browns: The bet
Statistically speaking while the Browns have a terrible week 1 winning percentage SU, the numbers for the Steelers aren't great either. in 2017, the Steelers did not do well on the road, going 4-4 ATS (3-4 as a favorite) which to me suggests that may be susceptible to a possible Cleveland upset. they also have not had a good betting record as of late against Cleveland.
| date | Spread | Result (w/spread) |
| --- | --- | --- |
| Jan. 1, 2017 | PIT -3 | Cleveland 27, Pittsburgh 27 |
| Sep. 10, 2017 | PIT -10 | Cleveland 18, Pittsburgh 11 |
| Dec. 31, 2017 | PIT -5 | Cleveland 24, Pittsburgh 23 |
The uncertainty of the Steelers roster combined with their record against the Browns this past season suggests, believe it or not, to take the Browns plus the points in week 1.
Crazy…?