NFL Betting Week 3: Vikings -16½ vs Bills, 49ers/Chiefs over 55 are sooooooo tempting…
Nothing really leaps out and grabs NFLbets by the throat in week 3, so no "Sure Bets"-level recommendation is forthcoming. However, this should be one interesting week of football betting indeed, with lots of interesting opportunities for the betting – and actually a couple of games in which NFL bettors may take a rooting interest.
Two games are particularly compelling, but so extreme…
Temptation #1: Vikings -16½ vs Buffalo Bills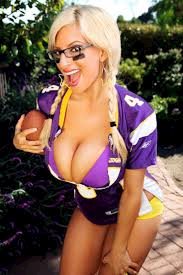 From a sheer excitement standpoint, nothing beats betting on an extreme line, whether point spread or over/under. And whoa, there are a couple beauties out there.
Example no. 1: Minnesota Vikings -16½ vs the Buffalo Bills. NFLbets reckoned about one quarter of the way into their week 1 game at the Baltimore Ravens that the Bills had a reasonable shot at going 0-16 SU. This game marks the first attempt by the NFL sportsbooks to ensure that poor ol' Buffalo doesn't go winless ATS as well – good call, because the smart money is against the Bills every week until further notice.
The first question is: How good do you believe these Minnesota Vikings are?
The sticking point is, of course, that 16½-point spread. The rule for betting high football point spreads – especially in the NFL – is simple: The higher the spread, the less likely it is to come in. As noted elsewhere on NFLbets, just 10 NFL games have kicked off with point spreads standing at 20½ points or higher since 1970. Underdogs are 9-1 ATS in those games, with the only ATS loss coming when the dynastic Pittsburgh Steelers met those amazing winless (and often scoreless) Tampa Bay Buccaneers.
The second question is: How bad do you believe these Buffalo Bills are?
According to a Covers piece of 2013, in the previous 204 games going back to 1985, underdogs covered at a 56% rate, going 111-87-6 ATS in that span as opposed to just 17-187 SU.
NFLbets is willing to answer these questions with "top 5" and "bottom 5", respectively, therefore willing to bet on the Vikings -18½, but only for the fun of watching Kirk Cousins et al run up the score.
The third question is:
Wager at your own risk.
Temptation #2: 49ers at Chiefs, over 55 points
Even more fun would be to cover over 55 points in the San Francisco 49ers at Kansas City Chiefs matchup, a line that's clearly the product of NFL bettors wising up quick to the fact that betting the over in Chiefs games will be profitable all season. The bookmakers figure this final score at about 31-24 when paired with the Vikings -6½ or -7.
Now come on, who doesn't figure these two teams for seven or eight TDs combined?
In this pairing of a holey defense and a mind-bogglingly porous, Marcus Peters-less one, no two quarterbacks could be more awesome on which to bet the over than Jimmy "Mr. High Risk/High Reward" Garoppolo and Pat "The Next Superduperstar" Mahomes? Hell, Mahomes may be jacked up enough to finally be playing on his home turf in front of thousands who haven't been this prepared to worship a quarterback since Joe Montana came over that he'll throw for eight TDs himself.
Still … 55 points is a lot, particularly with the lack of "skill players" to support Garoppolo. But hey, there's always Kansas City, who's averaging just over 3 touchdowns per game since opening day 2017 – and in 15 of those 18 games, the Chiefs had Alex Smith at quarterback. KC games topped 55 points of scoring six teams – including four when the Chiefs had Alex Smith at quarterback.
And through the first eight weeks of the '17 season, 26 games had scores totaling at or over 55 points – and at least two 55-point games were registered every week. This year, with yet more passing-friendly rules, we've seen 55 achieved nine times in two weeks – including twice by the Chiefs and once by the Niners.
This one is almost too easy, but the fun involved in rooting for two nascent kings of the NFL to run up an Arena League-style score makes this bet irresistible: Take the over/under on an O/U of 55 points.