Mitch Trubisky is a damn superman, has Bears in Madden Bowl against L.A. Rams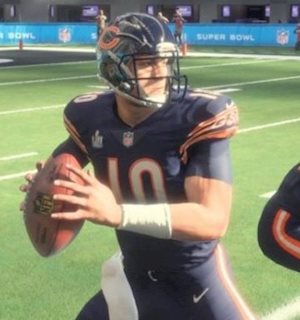 Sim Trubisky is a goddamn superman. Virtually all other sim quarterbacks in BetOnline's Madden Madness NFL sim football tournament had been tearing up NFL defenses – Sam Darnold, Josh Allen, Ryan Tannehill – finally showed their true colors in the Elite 8 and Final Four rounds. That wacky Madden sim engine could hardly be kept from producing one bizarre result for the Sim Bowl to be played today at 8pm ET/5pm PT.
Final Four round: North vs East
The Buffalo Bills survived the New York Jets in a 9-7 thriller (not!) in Friday's Elite 8 round, and sim Trubisky controlled the tempo against what had been an unbeatable Green Bay defense while the Bears forced three turnovers (hey, in a CPU vs CPU All-Madden level game, that's a lot) in a 20-8 win.
Well, on this Saturday, nothing worked for Buffalo. Sim Trubisky continued running as though he were Beattie Feathers in 1934, whipping off runs of 12 or 13 yards like nothing and sliding safe gracefully. The Bears ran up a 20-3 lead and when Khalil Mack forced the fumble out of Josh Allen in the red zone with under four minutes to play, it was over. Chicago Bears 20, Buffalo Bills 6, because after the 1990s, nobody outside of Buffalo wants the Bills in another Super Bowl.
Final Four round: West vs South
The Los Angeles Rams defense kept Patrick Mahomes's numbers down in a 25-9 win to take the Elite 8 game, even notching a safety on the QB in a 16-point second quarter to which the Chiefs could never answer. The Carolina Panthers meanwhile finished off the South bracket thanks to a Graham Gano field goal with 9 seconds remaining. Carolina Panthers 22, Tennessee Titans 20.
Does Madden believe in teams of destiny? Since taking out the no. 1 seed New Orleans Saints, the Panthers had fit that bill. But even though sim Cam Newton had been unbelievable in this tournament, he's no sim Mitch Trubisky. The sim Rams offense has been playing to at least 2017 levels, and the sim Rams defense may almost be ready to take on the Madden '07 Patriots, never mind the Madden '17 Patriots. Aaron Donald was an absolute beast again with three solo QB sacks, and the L.A. D allowed just two TDs all day. Los Angeles Rams 30, Cinderella Panthers 22.
So it all comes down to this: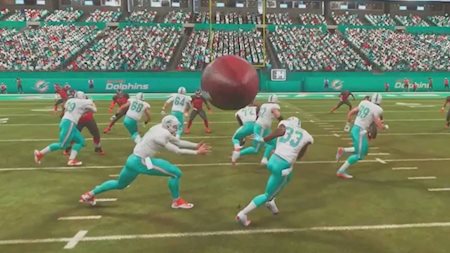 The Bet Online Madden Sim Bowl –
Chicago Bears +2½ vs L.A. Rams, over/under 39½ points
Come on, now: How many of you chose this matchup for the first Sim Bowl? In real life, the Rams finished 9-7 in 2019, while the Bears went just 8-8 and a notable amount in both teams' off-field personnel suffered neck strain while attempting to avoid facing reality vis-à-vis their quarterback.
But that's real life, isn't it? The 2019 Chicago Bears weren't running with Sim Trubisky, a badass who doesn't get tackled until he wants to be tackled. Mathematically precise and beautiful are the arcs of his passes, craftily sculpted are the drives he leads. In this tournament at least, Mitch Trubisky is a fucking god in the mold of a Madden 2004 Michael Vick or Tecmo Bowl's QB Eagles. As amazing as Aaron Donald has been, no one can handle the Mitch.
Which is why NFLbets is saying take the Chicago Bears ML at +110 vs the Los Angeles Rams. AS for the over/under, you're guess is as good as ours. After a run of 5-3 by over, the under is now on 5-1 run, with the sole over coming in the Rams-Panthers Final Four game. NFLbets supposes that if you like the sim Rams, take the over. If you like the Bears, well, there's no telling what kind of damage Sim Trubisky will do to these unsuspecting sim Rams defenders. You're probably still taking the over. So … take the over, we guess.
–written by Os Davis