Super Sim Trubisky leads Bears to 30-24 win in Madden Madness Bowl
So who needs so-called "real-life" NFL football? If Super Bowl LIII (New England Patriots 13, Los Angeles Rams 3) had been half as much fun as a single minute of play from the BetOnline's Madden Madness Sim Bowl, no one would be wishing for that 3½ hours back.
Check out this sequence, which contained nearly as much scoring as that entire Patriots-Rams debacle. Following a Rams block of a FG attempt and a 2-point safety runback, the Rams go 3-and-out, punt. On the first play from scrimmage, Tarik Cohen gets the pitch and is smeared by Aaron Donald (for one of the former DMVP's three sacks) to force the fumble. Bears WR Taylor Gabirel returns from his route, gets into the confused scrum of Rams defenders near the line of scrimmage, picks up the ball and takes it 89 yards for a TD.
Bears kick off, Todd Gurley is hit for a loss. And second down, Jared Goff drops back only to be crushed by big Akeem Hicks to force another fumble. Hicks himself takes it in for a second fumble recovery return TD inside of one minute of game time.
With the defense dominating, sim Chicago might've won the Madden Madness Bowl without their quarterback playing like the GOAT Tecmo Bowl Eagles QB, but the great Sim Mitch Trubisky delivered anyway. Sim Tru's TD pass to Tarik Cohen to close out the first half sparked a 20-2 run by the Bears to ultimately go up 20-13 and never surrender the lead again.
Leave it to Sim Trubisky to slam the door, throw the dagger, put the game to bed and wear out other clichés in the fourth quarter. Hen notched what would be the final score of the 'Bowl, running in a TD – his fifth in the past three last Madden games! And with 1:30 to play in the fourth, Sim Trubisky took matters into his own hands at the Bears 33 on 3rd and 4, coolly running for 19 yards. For the Rams, it was all over but the crying. Final score: Chicago Bears 30, Los Angeles Rams 24.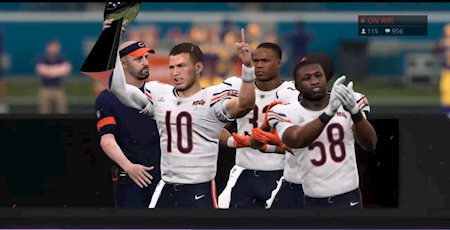 NFLbets happily cleaned up on our bets to cover the Sim Bears money line (ML) – obvious, really – and the over, which covered with more than 3 minutes remaining in the third quarter.
As for Mitch's final stat line, it read 20-of-27 for 230 yards to go with 89 yards rushing, 1 passing TD, 1 rushing TD against zero turnovers. Sim Trubisky had accounted for 319 of the Rams' 430 total yards, yet somehow the MVP of the BetOnline Madden Madness Sim Bowl was … Akeem Hicks. No denying Hicks's badassery here: The dude has a couple of big sacks on Goff and the TD, but dudes, it's sim Trubisky.
Naturally, The Great Sim One told what most considered a snub in stride. This was a team win, a team Sim Lombardi Trophy, a Super Bowl for the fans But we know he'll remember the slight. Sim Tru's cool, but this wasn't cool. Tell you what: When the next Madden Madness tournament comes around, Sim Trubisky's gonna play angry. Be afraid; be very afraid.
P.S. The South's no. 8 seed Carolina Panthers beat the Buffalo Bills in the third-place, a.k.a. consolation, game, 34-10. Like anybody cares.