Sim Chiefs, sim Packers avoid upsets, advance to Madden Madness Elite 8
After the craziness in the previous day's "Sweet 16" games in Bet Online's Madden Madness sim tournament, normalcy prevailed in the bottom half of the bracket yesterday.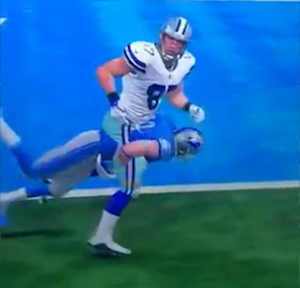 In the Sweet 16 round, the Kansas City Chiefs survived the Las Vegas Raiders, 38-35, after Chucky's team went on a 21-0 run in the second to third quarters.
The Green Bay Packers really ran up the ol' scoreboard on the Cleveland Browns by winning the baseball game, 13-6.
Philadelphia's Madden players nicely simulated the real-life Eagles by taking the Buffalo Bills into overtime, only to blow their possession in overtime aaaaaaaaaand Bills victory, 23-20.
Finally, the South playoff between real-life rivals the Tennessee Titans and Houston Texans also went into overtime, with the Titans D holding the Texans to a field goal in extra time and Tennessee advancing, 34-31.
Pointspread and over/under for the Eliter 8 games are as follows.
West: Los Angeles Rams +3½ at Kansas City Chiefs, over/under 50 points
North: Chicago Bears +3 at Green Bay Packers, over/under 43½ points
South: Carolina Panthers +3 at Tennessee Titans, over/under 43½ points
East: New York Jets +2½ at Buffalo Bills, over/under 42½ points
NFLbets could tell you that underdogs are 5-2-1 ATS in the last eight games or, better yet, that the over is 6-2 in that span. We might also point out that in the Elite 8 round of May29, all home teams were playoff teams in 2019 and none of the visitors are.
But, and we can't emphasize this strongly enough, *this isn't real football* and Madden has never been a reliable simulator in terms of reproducing real-life results. It doesn't mean you can't have fun – just be sure to adjust your bets accordingly. (There's a reason why betting is limited to results based on the scores of the game only.)
In the spirit of fun then – and not betting very many moneys – we'd say to take the over in the Rams-Chiefs, Panthers-Titans and Jets-Bills. Why? The difficulty level for the CPU vs CPU game is set for both teams at All-Madden. We're not sure why, but putting all players on this level has benefitted quarterbacks and edge rushers the most. Just look at some of the quarterbacks left in this competition: Mitch Trubisky, Jared Goff, Sam Darnold (who may be great someday but patently was not in 2019) … and Cam Newton is no longer hobbled or sightless.
Note, too, the low variance in pointspreads for this round. If you're covering any underdog plus the points, you may as well take the moneyline, which pays off at much better odds. But again: wager the proverbial responsibly.
–written by Os Davis