Super Bowl odds, psot-FA period: Bears' odds balloon after Dalton signing
Saturday, 20 March 2021 14:24 EST
In football, it has been observed, the quarterback has a disproportionate amount of influence on the outcome – apparently, this goes for proposition bet futures, as well. Case in point: The Chicago Bears and their spiffy new free-agent signing, Andy "The Red Rifle" Dalton.
Just as the Los Angeles Rams saw serious shrinkage in their odds in the "To Win Super Bowl LVI" prop after signing Matt Stafford and likewise the New England Patriots for rounding up an entire receiving corps, the Bears line expanded when news of Dalton's signing broke.
As reported at ESPN online – one can almost hear the tsk-tsking underneath the prose – "The possibility of landing a marquee quarterback this offseason had caused the Chicago Bears' Super Bowl odds to improve slightly in recent weeks. But on Tuesday, after the reported signing of veteran quarterback Andy Dalton, Caesars sportsbook dropped the Bears' odds from 40-1 back to 50-1.
One takeaway from this odds seesaw: Apparently, mere optimistic speculation about Chicago landing, likesay, Russell Wilson, betters the Bears' chances by 20%. Even if they lost a couple starters and their immediate future on draft day: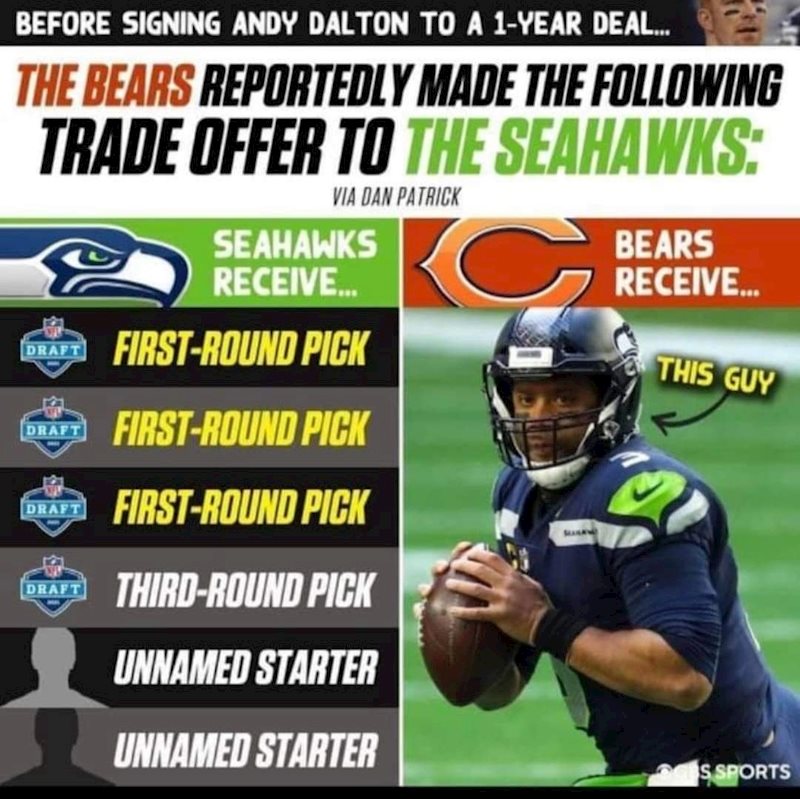 Takeaway #2: The sportsbooks are trying to tell us that the Green Bay Packers will win the division in a walk, with odds in My Bookie's "To Win NFC North" prop currently as follows.
Green Bay Packers: -275
Minnesota Vikings: 4/1
Chicago Bears: 4/1
Detroit Lions: 25/1
Note the stinginess of the last three lines. At -275 (or 4/1), the implied probability of the Packers winning the NFC North in 2021 is 73.3% – yet the Vikings and Bears are each given a 20% (giggle) chance? This should indicate clearly what a sucker bet anyone except the Packers is here.
But back to Dalton: Is the pessimism of The Red Rifle's viability as a starting quarterback warranted? (NFLbets excludes Bears fans here; any cynicism felt toward essentially any QB not named Russell Wilson is warranted for nearly 75 years of dead arms.) The short answer, based on stats, is yes. Bears backers, you have been given notice to skip the next several paragraphs.
In 10 years with the Cincinnati Bengals and Dallas Cowboys, Dalton went 74-66-2 as a starter, for an average season of 8-7-1. His personal stats include a 62.2% completion percentage, an average season of 22 TDs against 12½ interceptions and an average AV rating of 10.3.
Meanwhile, from the 2011-2020 span during which the Chicago QB was mostly Jay Culter or Mitch Trubisky, the Bears have managed an average win-loss record of slightly better than 7-9, based on a cumulative 73-87. Altogether, Chicago QBs threw a yearly average 24 TDs against 13½ TDs and completed more than 62.2% in six of the 10 years.
And then there's this: Chicago is 0-2 in playoff games since the 2011 season, while Dalton is 0-5 and hasn't seen a postseason since 2015 – NFLbets isn't sure whether that makes matters even worse or should we just blame Marvin Lewis…
In other words, then, Andy Dalton is exactly the prototypical quarterback that the Bears have been rolling with since at the 1980s, if not the 1950s. As they say then, more bad news for the Bears.
– written by Os Davis