Super Bowl odds post-FA period: Here come (back) the Patriots…
Thursday, 18 March 2021 16:43 EST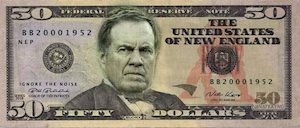 You had to figure that the New England Patriots wouldn't stay inferior for long, but who'd've guessed the domination Bill Belichick & Co. unleashed on the NFL in the opening days of free agency? The signings at wide receiver and tight end – Nelson Agholor, Kendrick Bourne, Derrick Henry and Jonnu Smith – stole the headlines and with good reason: The Patriots are already looking at a roster with their best corps since 2008, their best 1-2 at tight end since Aaron Hernandez was playing, and Smith is now the highest-paid "skill player" Patriot ever.
Beyond this big four, New England also added DLs Davon Godchaux, Deatrich Wise Jr. and Henry Anderson; LBs Matt Judon and Kyle Van Noy; and safter Jalen Mills, and acquired OT Trent Brown in a trade. Incidentally the Pats also re-signed Cam Newton; New England wasn't even counted among the offerings in a previously offered "Team to Sign Cam Newton" proposition bet, but hold your tickets (if you were foolhardy enough to play the prop), as the conditions of the bet call for Cam to be listed onan Opening Day roster.
As a result of the moves, those ready to take a Buffalo Bills repeat division win for granted have been suddenly forced to rethink things.
Super Bowl odds have also been adjusted accordingly: On February 8, the New England Patriots were getting 55/1 odds to win the Super Bowl (and by inference about 25/1 to 28/1 to win the ARC). By Thursday morning this week, they were at 25/1 on My Bookie and listed at 30/1 on the Sports Betting Dime aggregator.
With the additions made already – not to mention the heretofore not undertaken acquisition of a viable starting QB – the 7-9 Patriots are suddenly among the best value bets in the AFC. And despite the rise of upstarts like the Bills, Miami Dolphins and Cleveland Browns as well as the two-time defending conference champion Kansas City Chiefs. 12/1 to 15/1 to win the AFC no longer feels unreasonable at all. Remember, too, that these odds will only get shorter should the Pats indeed manage to bring over Jimmy Garappolo, long-rumored source of envy for Belichick.
Even more intriguing is the strong possibility that the AFC East will be highly competitive in 2021 – at least among the top 3 teams. Post-Patriots feeding frenzy, odds in the "To Win AFC East" prop bet read as follows.
Buffalo Bills: 4/5
Miami Dolphins: 14/5
New England Patriots: 4/1
New York Jets: 20/1
Using implied probability, the Dolphins, Patriots and Jets have a combined 50.1% chance of winning the division, thus betting "The Field" versus the Buffalo Bills should be worth 1/1 odds – quite an intriguing wager right now, if you can find a sportsbook with the offer. Alternatively, covering both the Dolphins and the Patriots would be worth a win paying out at either +140 or +200 – and again, that second figure will only decrease after a quarterback better than 2020 Cam Newton is aboard in Foxborough.
All in all, the Patriot spending spree should be seriously lucrative for NFL bettors. We think.
–written by Os Davis