Winner in 49ers-Dolphins draft pick trade? Bill Belichick, probably…
Friday, 26 March 2021 18:16 EST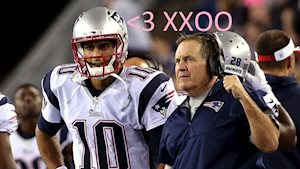 The first big trade of the 2021 NFL Draft is in as with the Miami Dolphins bagging four draft picks from the San Francisco 49ers in exchange for the no. 3 overall pick, with which the Niners are likely to draft either BYU's Zach Wilson or Ohio State's Justin Fields, depending on the New York Jets' choice. Regardless of choice, the foregone conclusion is that Jimmy Garoppolo won't be starting for San Francisco next season.
Overall, the trade represents a solidly rational decision by Miami, which apparently is set with Tua Tagovailoa as full-time starter (for reals, this time) in 2021. Likewise, San Francisco also made the correct move, with three of the top five picks at very least likely to be QBs. So why can't NFLbets stop thinking that the biggest winner in the deal was Bill Belichick and his New England Patriots?
The rumors about Garoppolo starting for New England began in 2014, when Belichick & Co. snapped up the Eastern Illinois QB in the second round of the draft, representing the only notable quarterback drafted by the Pats since Tom Brady took the helm. And the rumor mill still says that Belichick would still like Jimmy G. aboard. Just three hours before the 49ers-Dolphins deal, NBC Sports online posted a piece which featured an insider claiming that a trade for Garoppolo "is still on the table." What's that expression about smoke and fire...?
And now? As local news outlet Mass Live put it, "Patriots now have door open to deal for 49ers QB." What's more, a deal for Jimmy G. now might not even include New England's no. 15 overall pick, a pick at which many mock drafts still reckon Heisman Trophy-winning DeVonta Smith could be available. Garapppolo figures to have few suitors – if there were, a deal might have been floated already – and thus a 2021 second-rounder feels like the appropriate centerpiece in such a swap.
Additionally, the Patriots might have received help from within yet again. Tagovailoa was 6-3 as a starter last season, but his statistics were remarkably similar to Ryan Fitzpatrick's, right down to sacks per games (2.2 for Tua, 2.0 for Fitz); in fact, Tagovailoa was slightly worse in most statistical categories except interception rate. Granted, much of Tua's underperformance may be put on Dolphins coaching, who were clearly wishy-washy about, you know, their freakin' *starting quarterback*, but NFLbets hardly considers the second-year man a known quantity.
This offseason, New England has captured NFL fans' (and bettors') imaginations with a free-agency spending splurge the likes of which Belichick et al had never remotely considered until last month. With improvements to the receiving corps, the offensive line, the defensive line, linebackers and secondary, about the only area in which the Patriots didn't upgrade was, yes, quarterback. And while it's quite possible that noodle-armed Cam Newton will in fact be the starter on opening day, back up to viable form, even. But NFLbets can't help thinking how much this Patriots' offseason has resembled that of Tampa Bay's pre-Brady machinations.
Now, NFLbets is hardly ready to hand the Patriots the 2021 AFC title (current odds at My Bookie of 16/1, on par with the "Los Angeles" Chargers and Tennessee Titans) or even the AFC East (current odds +375, with the Buffalo Bills fetching -165) based on the possibility that they'll acquire Garoppolo, whose stats and arm strength are fairly pedestrian and whose injury history is troublesome anyway. But we do believe in the sudden excellent value in betting the '21 Patriots.
The 49ers, meanwhile, still face potentially the NFL's stiffest in-division competition, depending on whether the Seattle Seahawks are as wonky as Russell Wilson evidently believes they are. Maybe Fields/Wilson plus LT Trent Williams equals a return to the Super Bowl (current odds in the "To Win NFC Championship" prop, they're getting odd of +650, now equaling those on the Los Angeles Rams), but NFLbets wouldn't stake it.
As for Miami (at 3/1 to win the division, 12/1 to win the AFC), NFLbets'll wait and see – but would anyone really be shocked if this transaction somehow blew up in the Dolphins' faces…?
–written by Os Davis