Bakari Sellers: at 6/5 to be named VP nominee, Kamala Harris is a layup
Saturday, 13 June 2020 15:27 EST
Disclaimer: NFLbets does not endorse the views or opinions stated on the Bill Simmons Podcast nor those of its host or guests. Unless they can help us win bets.
Sure, betting on the 2020 US Presidential race is something of a mindfuck right now – not only are the odds on both major candidates well too short for solid betting, the possibilities of either the historically disastrous Donald Trump's reelection or a victory by the clearly addled out-of-touch Joe Biden, seem paradoxically equally unlikely.
Far more interesting is the proposition bet "2020 Democratic Vice-Presidential Nominee." This prop is just now hitting a sweet spot for voters: As the Biden campaign has promised to reveal Biden's veep choice on or around August 1, bettors need not wait too long for payout. And regardless of position on the political/ethical/moral spectra, any bettor may consider him-/herself free of negative juju elicited by wagering on the success of the opposition.
At My Bookie sportsbook, then, odds in the 2020 Democratic Vice-Presidential Nominee prop look as follows.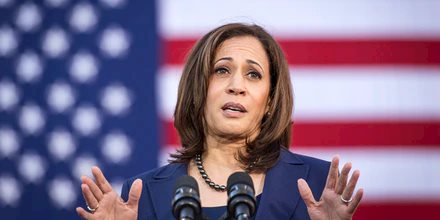 Sen. Kamala Harris: 6/5
Rep. Val Demmings: 7/2
Mayor Keisha Lance Bottoms: 7/1
Sen. Elizabeth Warren: 9/1
Stacey Abrams: 10/1
Former NSA Susan Rice: 15/1
Gov. Gretchen Witmer: 22/1
Sen. Tammy Duckworth: 16/1
Michelle Obama: 18/1
Sen. Amy Klobuchar: 22/1
Gov. Michelle Lujan Grisham: 25/1
A few more names are listed in the odds table, but let's presume that bets on Hillary Clinton (65/1) and Andrew Cuomo (100/1) are not to be taken seriously.
And speaking of ruling out contenders, we can toss wagers on Warren, Whitmer and Klobuchar right off the ballot. Warren and Klobuchar are both likely to land high-profile jobs in the Biden Administration, but the latter is particularly radioactive, thanks to a past record as prosecutor which shows that attorney Klobuchar performed her duties as she should have, i.e. by maintaining a tough-on-crime, easy-on-racist-cops professional attitude.
Well that kind of shit, as some thinking entity within the Biden campaign concluded, won't prove too beneficial in 2020. Not to put too fine a point on it, but the strategy for the Democratic Party in the post-George Floyd world is simple: CAWS, as in Choose an African-american Woman, Stupid. This new reality has shortened the odds on Harris, Demmings, Bottoms and Rice in a hurry, but luckily even the table-topping Harris is still drawing longer than 1/1 odds.
And wow is that 6/5 on Harris a great bet right now. She's drawing more positive press from certain mainstream media outlets (you know who they are) than Demmings and Rice while completely writing off Abrams, who was always seen by the DNC as too scarily militantly progressive – I mean, radical. The modicum of name recognition Harris gained from the early Democratic Presidential debates puts her ahead of Demmings and Bottoms (not to mention Whitmer and Duckworth), who are gaining mostly for reasons of geography, in the public consciousness.
Confirmations on Harris as a smart bet are everywhere. To cite the most recent example, lawyer/politician/anti-Palestinian Bakari Sellers recently appeared on the Bill Simmons Podcast – a show increasingly devoted to sports history and surface-level news talk – to promote his book My Vanishing Country, discuss race issues in America and, inevitably, weigh in on the 2020 election.
When Simmons asked Sellers if Harris was the VP nominee, Sellers replied like a good corporate Democrat, "I hope so." Going on to state, "I think the favorites are probably Harris, Susan Rice, Val Demmings, [Michelle Lujan Gisham] and you may have Keisha Bottoms in there, but Kamala Harris is a layup for the Democratic Party.
"The caveat here, though, is that Democrats miss layups all the time."
Indeed they do.
Luckily, the bettor can still hedge with a solid candidate or two and still turn a nice profit. For example: Cover Harris at +120 with amount 2x. Also cover Demmings at+350 for x. If you're betting, likesay 100 Moneys, a winning bet here profits at +290 or +300. Alternatively, betting on Harris at 4x while hedging with Rice and/or Grisham at x wins a payout of +280, +380, +900, +1000, +2000 or, if covering Harris and ultimate VP nom Grisham, the max payout for this combination at +2100.
So who says electoral politics are good for nothing…?
–written by Os Davis