Over/under NFL draft position props: Betting on Smith, Waddle, Chase, Surtain, Etienne, more
Saturday, 24 April 2021 16:17 EST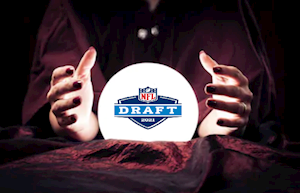 The rumors are still rumoring, the chatters are still chattering – and nothing has really dissuaded NFLbets from our current mock draft. Particularly ridiculous among the punditry's neverending creation and re-creation of draft boards are those imagining bold 'n' wacky trades into the top 10; this one from the league's official site has the Chicago Bears trading up to no. 8 to draft Trey Lance.
This sort of speculation is clearly purely a product of the imagination. No one can say with any assurance whatsoever who the San Francisco 49ers are taking at no. 3 overall, so how can these Nostradamus types accurately forecast trades? Also this: Would seeing no Draft Day trades within the top 10 truly be a shocker? (In the past two drafts, it's happened only once.)
The point: When betting over/under draft selection props, don't get cute and don't mess with chaos. Weird enough stuff will surely happen without bargaining on trades – and certainly will outside the first 13 or 14 picks.
Here's how NFLbets is thinking on some Draft Day props…
At what number will DeVonta Smith be selected?
Over 11½: +100, under 11½: -140
When was the last time a Heisman Trophy winner was this lightly-regarded going into the NFL Draft? On the other hand, this offering indicates that the sportsbooks see DeVonta Smith as a probable mid-round pick.
Three teams might/could/will probably go for a pass-catcher: the Atlanta Falcons, Cincinnati Bengals, Miami Dolphins, Detroit Lions and Carolina Panthers. Figuring that one of these selects TE Kyle Pitts and at least one drafts one of two top-rated OTs, this would mean Smith would be at max the third WR taken, probably behind Ja'Marr Chase and Jaylen Waddle.
The main question then becomes: Will the Lions really go for a wide receiver? If so, swooping up Waddle could well trigger the Panthers to go for Smith at no. 8, but that's a lot of falling dominoes for a bettor to count on. Take the over.
At what number will Jaylen Waddle be selected?
Over 11½: -110, under 11½: -130
Applying similar logic to Waddle that we did for Smith, NFLbets is also figuring that Waddle is generally regarded as the second-best WR in this draft. Take the under at actually reasonable odds.
At what number will Ja'Marr Chase be selected?
Over 6: +170, under 6: -250
No dummies, these bookmakers: With the Dolphins drafting at no. 6, their selection of an offensive playmaker, likesay, the best receiver in the draft. Now that they're apparently set on Tua, the only scenarios in which NFLbets can see the Dolphins *not* taking Ja'Marr Chase is if the Cincinnati Bengals or Atlanta Falcons have already drafted him or if both teams somehow pass on Pitts – and in both cases, Chase will certainly hit this under. Take the under.
At what number will Najee Harris be selected?
Over 32½: +140, under 32½: -180
Put another way: Will Najee Harris be drafted in the first round? True enough, the 2021 draft class doesn't appear to include an RB of the caliber of Josh Jacobs, Saquon Barkley, Leonard Fournette, etc., and many NFL fans believe in the diminishing importance of the position itself, but since 1980 just twice – in 2013 and '14 -- has no running back been drafted in round 1. With at least one late-round team is looking for a halfback (the Pittsburgh Steelers at no. 24) and two others who could on a best-player-available basis (the Green Bay Packers at no. 28 and Tampa Bay Buccaneers at no. 32), a first-round running back will definitely enter the league in 2021.
The question that most dramatically affects this wager is this one:
At what number will Travis Etienne be selected?
Over 35½: -120, under 35½: -120
That 35½ is quite intriguing; the sportsbooks may suspect that either the Jacksonville Jaguars, New York Jets or Atlanta Falcons will be calling Etienne's name early on the second day. But is Harris actually the better (or more desirable) pick? NFL.com draft analyst Lance Zierlein reported late last week that the majority of scouts don't agree:
I haven't spoken with any one working for a team - personnel or coach, who doesn't have Najee, Etienne and Javonte Williams as the dead-lock tier one RBs. Spoke to one coach who has it Najee, Williams, Etienne. A majority of people have Etienne first and Harris second.

— Lance Zierlein (@LanceZierlein) April 16, 2021
Now even if the Steelers brass are not among the aforementioned "majority of people," if just one later-round team has Etienne ranked higher than Harris, that team should not really allow a talent like Etienne's to last until round 2. Take the unders on Harris and Etienne.
At what number will Patick Surtain II be selected?
Over 10½: +110, under 10½: -150
One of the few top-16 selections that nearly every mock draft seemingly agrees upon is that the Dallas Cowboys will be the first team to select a defensive player at no. 10, while the New York Giants are also expected to go defense with the next pick. Despite Cowboys owner Jerry Jones's reported infatuation with Kyle Pitts, most Dallas observers figure it's down to Surtain and Jaycee Horn. Horn has a similar line in his own prop, at -150 to go under-13½th.
Of course, predicting the Cowboys' moves on Draft Day may be the most futile endeavor for anyone not privy to the amount of influence ol' Jonesy will have. So on this one, we're predicting the irrational to get the better odds: Take the over.
— written by Os Davis