NFL Offensive Rookie of the Year – Early odds, picks, predictions
Wednesday, 12 May 2021 11:19 EST
The NFL Offensive Rookie of the Year is the professional analogue college football's Heisman Trophy award. Not only are quarterbacks the default choice, but the range of players who even have a decent chance of bagging the trophy begins with "narratives" months prior to the season – kind of like a "Choose Your Own Sports Adventure" with dozens of potential paths to follow, but a limited number of possible endings.
Then again, a receiver won the Heisman in 2021…
NFLbets today takes a look at the early odds in the "NFL Offensive Rookie of the Year" proposition bet. Those getting odds of shorter than 40/1 includ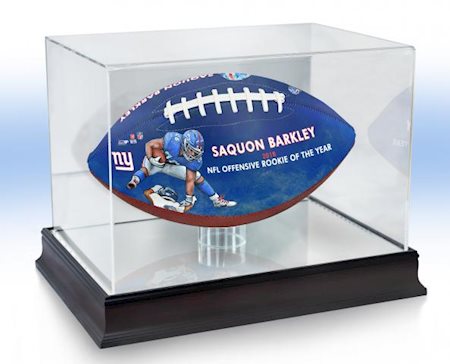 QB Trevor Lawrence, Jacksonville Jaguars: +350
QB Trey Lance, San Francisco 49ers: +550
QB Justin Fields, Chicago Bears: +650
QB Mac Jones, New England Patriots: +750
WR Ja'Marr Chase, Cincinnati Bengals: +1000
TE Kyle Pitts, Atlanta Falcons: +1000
QB Zach Wilson, New York Jets: +1000
WR DeVonta Smith, Philadelphia Eagles: +1200
RB Najee Harris, Pittsburgh Steelers: +1200
WR Jaylen Waddle, Miami Dolphins: +1800
QB Davis Mills, Houston Texans: +2800
RB Javonte Williams, Denver Broncos: +2800
RB Travis Etienne, Jacksonville Jaguars: +3300
The hot take: For those who don't believe that the 2021 lot of rookie quarterbacks will have an immediate game-changing effect on the league, several quality value bets lie in wait in this prop.
The quarterbacks
But what about the chances of the quintet of QBs who so captured the imagination (as well as a few prop bets; Trey Lance, Justin Fields, we're looking at you) on Draft Day? Firstly, Fields, Lance and reportedly Mac Jones will start the season as second-stringers; perhaps only an preseason or early-season injury to the starter will get any of these three enough stats to compete for the award.
For Trevor Lawrence, Zach Wilson and Davis Mills, good news and bad news: Of the past six O-ROY winners, three have been QBs – Dak Prescott, Kyler Murray and Justin Herbert, but we'd bet that each of these QBs' teams is worse. Lawrence has an inside track with the forces of narrative, but the last time any Jaguars offense ranked among the top half of the league in passing offense was year 2000. Do we really believe a rookie will do so? Nah.
The running backs
With the shortest odds among RBs at 12/1, Najee Harris may be benefitting from Pittsburgh's repuration for cranking out star "skill position" players from the jump – but the Steelers closed out 2020 by losing five out of six and by running for fewer than 95 yards in 11 of the last 12. On top of this, the Steelers have drawn a number of imposing defenses in 2021, including Cleveland and Baltimore twice each, Buffalo, Chicago and Denver. Harris's breakout season may have to wait until 2022.
The wildcard here is Javonte Williams at 28/1: The Broncos' 2021 season remains shrouded in mystery vis-à-vis the possibly imaginary Aaron Rodgers deal; with a competent QB at the helm, an elusive halfback like Williams would certainly benefit. Earmark Williams at these odds and keep a look out for the Big Deal.
The pass catchers
That's right: That's "the pass catchers." Why? Because everyone who knows NFLbets knows the rant on this one. If a guy is getting near-universal acclaim as a "generational player" at a position whose importance is steadily growing in cruciality to the modern NFL offense, how can bettors not cover Kyle Pitts at 10/1? A tight end may not have won this award in 60 years, but not every year does a man-among-boys type enter the league, either. Matt Ryan threw the ball constantly last season to go fourth in attempts overall and with former Tennessee Titans OC Arthur Smith is the new coach, Ryan's numbers could remain surprisingly high.
Ja'Marr Chase at 10/1 also makes for an enticing good news/bad news pick: Chase gets reunited with his college QB in Cincinnati, but will the Bengals' offensive line show improvement over the terrycloth front that got Joe Burrow pummeled last season? Former Minnesota Vikings OT Riley Reiff was signed in free agency while drafting interesting-looking OG Jackson Carman (Clemson) in round two, OT D'Ante Smith (East Carolina) in four, and C Trey Hill (Georgia) in six. So … feeling lucky?
The pick(s)
Well, NFLbets is definitely recommending that bettors take Kyle Pitts at 10/1 in this prop. We'd also advise hedging and thus to take Ja'Marr Chase at 10/1. Finally, wait 'n' see on the Lance/Fields/Jones lot through the preseason to hedge on he with the best position to eke out the O-ROY. (Probably Jones…)
–written by Os Davis