Goodell encourages NFL franchises to sign Kaepernick – but will they?
Wednesday, 17 June 2020 09:01 EST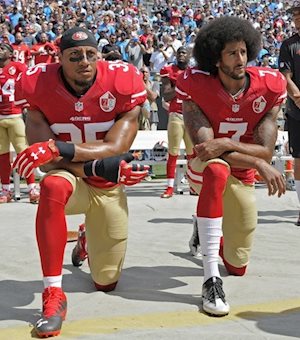 NFLbets would hardly characterize the NFL's franchise owners as "woke", but this week the lot are finally exhibiting a modicum of social awareness – albeit seven years too late at base minimum.
History will ultimately show that on June 5, 2020, as a thousand cities and towns throughout the U.S. rang with outrage over the brutal murder of George Floyd, NFL commissioner Roger Goodell did state that "We, the National Football League, believe black lives matter. I personally protest with you and want to be part of the much-needed change in this country."
Justifiably, some players weren't buying that bullshit, most notably Dallas Cowboys DE Michael Bennett. Bennett described the statement as "almost alike a slap in the face", going on to state that Goodell "knows Black Lives Matter, because without black players, the NFL wouldn't be as lucrative as it is."
Baltimore Ravens LB Matthew Judon was among those finding the timing convenient: "I think we should have been questioning why Roger Goodell didn't say black lives matter when he was born, or when he became commissioner or when he was re-elected commissioner."
But hey, this is NFLbets, where we're concerned about making money the wagering way. Can this latest round of the league's official vacuousness be turned to the NFL bettor's advantage?
The answer to that, happily, is yes – if somewhat indirectly.
The Return of Sports – and Colin Kaepernick
History will also show that on the June 15, 2020, ESPN Sports Center special pretentiously entitled "The Return of Sports," Goodell publicly encouraged teams to consider signing former pariah and courtroom nemesis (not to mention a favorite subject for proposition bets in the post-PASPA world) Colin Kaepernick.
At least one big online sportsbook immediately shifted the odds in their "Odds Colin Kaepernick on Active Roster for Game 1 of the 2020 NFL season" prop after offering the same lines since the conclusion of Super Bowl LIV. By this morning, YES had gone from +500 to +300, while NO went from -900 to -500. If we presume that even during a pandemic situation, such props never draw serious sums from bettors and thus the odds rarely waver much, we may conclude that this sportsbook doesn't think much of ol' Kaep's chances at a comeback.
Beyond this, factor in the reticence of 32 franchise owners not exactly busted outright for collusion, but. In addition to the party line taken by these teams which was based on the narrative that Kaepernick just wasn't that great a QB, how many of these billionaire types (and the Green Bay Packers board, who are pretty well justified in passing on high-risk QBs for a while) will be willing to roll over and surrender alpha dog status to a dude who was crushing them in court and public opinion…?
The unavoidable (if slightly depressing) conclusion is that smart money says take the NO in the Colin Kaepernick on Active Roster for 2020. But that's no fun; what's fun is hedging the NO by guessing which team will bet on their own PR and sign an athlete for our times…
To be continued...