Coaching moves (probably) did not help these NFL teams
Tuesday, 25 August 2020 15:05 EST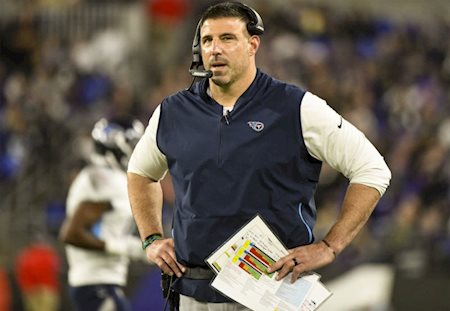 NFLbets previously considered three NFL teams who likely helped their chances for success in 2020 by means of coaching changes. This time around, we're considering seven teams whose sideline switches may not do any good – or even make matters worse. Adjust bets accordingly. (Odds listed are those currently posted in MyBookie's "To Win Super Bowl 55" proposition bet.)
From the Your Guess Is As Good As Ours Department are the Tennessee Titans (30/1) and Carolina Panthers (100/1). Incidentally, Titans backers for the 2020 season, in which anything could happen up to and including Ryan Tannehill winning Super Bowl MVP, have got to be loving those odds.
In Carolina, the front office has shifted into fourth gear of rebuilding. At the top are three rookies to the NFL coaching game: Head coach is Matt Rhule of Baylor, who brings with him his Bears DC Phil Snow as well as some 10 others. At offensive coordinator is Joe Brady, who takes a big step up from Florida Gators WRs coach.
Whether or not these mostly young new guns can enjoy immediate success in 2020 is questionable, but two things are certain about these Panthers: a coaching staff from the college ranks will certainly be useful for the NFL draft after a year of no college football, and Christian McCaffrey will be the no. 1 in fantasy football stats in '20.
Meanwhile, in Tennessee, the Titans are still without a defensive coordinator, which they've been since Dean Pees retired in January. The Tennessee D declined some from its showing in 2018., but the '19 team generally had a better showing under head coach Mike Vrabel. Should we presume that Vrabel will take over the defense playcalling as well? NFLbets doesn't trust that enough to label it an "improvement." Vrabel's mentor Darth Belichick got away with that, sure – *after he won the Super Bowl already*.
Same goes but even more so for the Los Angeles Rams (55/1). With Wade Phillips retiring out of the defensive coordinator spot, the Rams took on Brandon Staley, the former Denver Broncos LBs coach and seemingly a decent enough hire. For OC, in comes Kevin O'Connell, former offensive coordinator and QBs coach in Washington, who last year headed up the offense dead last in points scored and passing yards.
But good (?) news! Sean "Wunderkind No Longer" McVay will be handling the offensive playcalling with an offense "powered" by his preferred QB Jared Goff (Goff's got pictures on him, obviously) and with no Todd Gurley, who sadly will ultimately go down as having atrophied for his two years under Jeff Fisher. Hell, O'Connell might even fail right up into that head coaching job by the end of this season as the Rams settle into last place in the NFC West…
Taking over as Chicago Bears (40/1) offensive coordinator is Bill Lazor, formerly of the Cincinnati Bengals, and … wait a minute, the Bears have an offense?
You know those guys who make terrible head coaches but notably good coordinators? You know, like Wade Phillips. NFLbets would put Pat Shurmur and Jay Gruden, new OCs for the Denver Broncos (40/1) and Jacksonville Jaguars (175/1), respectively, in that group. However, neither has proven himself a miracle worker and the past, and these two offenses might require a team of Jesuses in 2020… will get to prove they're among that lot in 2020.
And finally, there are the New York Giants (100/1). Former New England Patriots special teams coordinator Joe Judge is now head coach, becoming the first NFL head coach to make that leap into the position since John Harbaugh in 2009. Among his new staffers are Jason Garrett as OC and Freddie Kitchens, who has been returned to his level as a TEs coach. So maybe Judge is Harbaugh 2.0, but, likesay, NFLbets doubts it.
–written by Os Davis