Three teams who improved their Super Bowl LV chances with coaching hires
Friday, 21 August 2020 14:03 EST
Prior to any normal NFL season, those making predictions cleverly must account for coaching changes. NFLbets, for one, places well more emphasis on a solid coaching hire than a marquee free-agent signing or high draft pick: We guarantee that in the NFL, head coaches would lead the league in Wins Above Replacement if they were measured by the metric alongside players.
As with any factors in predicting the 2020 season, the effect of coaching changes could well turn out as variable as the lack of homefield fans – but we're guessing not. Below runs the NFLbets take on three teams who improved their sideline circumstances in offseason 2020. Adjest bets accordingly. (Odds listed are those currently posted in MyBookie's "To Win Super Bowl 55" proposition bet.)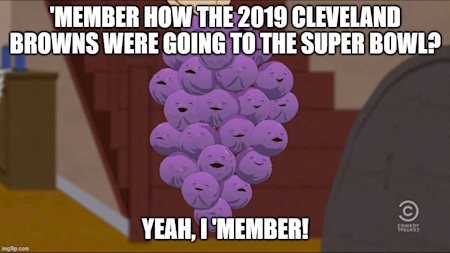 Do we dare begin with optimism about the Cleveland Browns (30/1)? Typically, the turnover of head coach and both coordinators indicates a franchise-wide churn is in effect as rebuilding begins but roster-wise, this Browns team is fairly identical to the 2019 version. ('Member them? The team that was favored to win the AFC?)
History now shows that Freddie Kitchens, the man promoted from quarterbacks coach, wasn't exactly the right guy to coach up a squad full of name players including a handful dominant at their position. And so once again the Cleveland front office cleaned house, hiring Minnesota Vikings offensive coordinator Kevin Stefanski as head coach before his charter flight left San Francisco following the Vikes' divisional round loss.
At offensive coordinator are Alex Van Pelt, who was Cincinnati Bengals quarterbacks coach last season; Stefanski will reportedly be handling playcalling, however. At defensive coordinator will be Joe woods. In 2019, Woods was DBs coach in San Francisco and was DC for the Denver Broncos in 2017 and '18. The jury is definitely still out on Van Pelt, but the two-dozen years of experience Woods brings is more than the Browns have seen from, what, their last nine coordinators combined?
Young though Stefanski may be, the Browns' coaching moves clearly make a step up. Overtaking the Baltimore Ravens in the AFC North is another story, but NFLbets'd calculate a couple extra wins for Cleveland in 2020.
Backers of the Washington Football Team (125/1)have certainly been poring over recent Carolina Panthers' stats ever since their Football Team announced the hiring of "Riverboat Ron" Rivera and his sidekick QB coach-now-OC Scott Turner. Those records show that Rivera's Panthers had four playoff runs in eight years – but all between 2013 and 2017 – but only once a truly elite offense.
On the defensive side, Washington broke Jack Del Rio out of the cryogenic chamber in which he'd been resting for two NFL seasons. Del Rio is one of those guys who performs significantly better in a coordinator role as opposed to head coaching: As a head coach with the Jaguars and Raiders, he's just 94-97 in all games, but in four seasons as DC with the Panthers and Broncos, his teams made the playoffs all four years, three times with a top-5 defense in yardage allowed, twice top-5 in points allowed.
In a division with the perpetually underwhelming Dallas Cowboys and (at least since the Super Bowl win) Philadelphia Eagles, this new/old coaching staff alone could get Washington into the race.
Who knows what head coach will ever cure the snakebit Minnesota Vikings (28/1) of their playoff woes, but at least their front office is attempting to keep the team competitive. For 2020, OC Stefanski moved on to Cleveland, while six-year DC George Edwards departed for Dallas. The Vikings brain trust did not panic, though: They instead promoted from within, a decent call considering the team has gone 52-32-1 SU (.617) over the past five years.
Last year's assistant coach Gary Kubiak becomes Minnesota OC for 2020, while the defensive coordinator duties will be taken on by the tandem of Adam Zimmer and Andre Patterson, formerly of the DL and LB coach positions, respectively. While we should all be appropriately skeptical of any duo working a single NFL coaching spot, in this instance the move feels natural as both have been nurtured in Edwards's defenses. And if continuity proves as important in '20 as NFLbets thinks it might, the familiarity Minnesota's keeping can only be a plus.
As for those unlucky turns so many Vikings playoff runs take, that'll have to remain an unknown. On the other hand, we are talking the 2020 NFL season, a year destined for high weirdness and a bizarre outcome. Cleveland Browns-Minnesota Vikings in Super Bowl LV, anyone…?
–written by Os Davis