What team will Aaron Rodgers play for in game 1 of the NFL season? None of these six…
Saturday, 26 June 2021 21:20 EST
NFLbets knows: You're probably sick of even the trickle of rumors, news and social media speculation about, on or from Aaron Rodgers engaged in a typical superstar tug-of-war with his continually underperforming team. Unfortunately, the "What team will Aaron Rodgers play for in Game 1 of the 2021 NFL Season?" proposition bet offered by the likes of Bovada is one of the few NFL bets that's showing any action at all.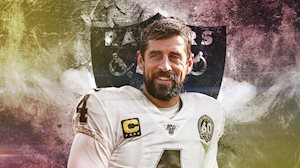 And from our viewpoint, it's a poor offering. After all, where is NFLbets' recommended play, i.e. "No Team" at any odds? Seriously, just think about these possibilities; they're all bullshit, frankly, especially the favored…
Green Bay Packers, -220
Quick: Who was the last franchise player in any sport to blink in a game of chicken against their current team? (James Harden with the Rockets doesn't count.) Consider things from the player's perspective – and here you can use Rodgers, Harden or any such as example. In Rodgers's case, he won the MVP for 2020 and might've at least won a game with the Packers in the playoffs if not for a, likesay, questionable decision by Matt LaFleur, with whom Rodgers was hardly already bosom buddies before the divisional round.
Additionally, Rodgers has now set his sights on Packers GM Brian Gutekunst after Gutekunst effusively informed media that Green Bay would never trade Rodgers. So in a standoff between a franchise QB and a third-year GM, who wins? Insure this, Green Bay: Rodgers ain't coming back.
Denver Broncos, +175
The swoon of the Broncos' odds in the "Super Bowl winner" prop based on a rumor is highly suspicious. NFLbets has long pondered the origin of the Rodgers-to-Denver story and even if this gossip were true then, time has passed and Rodgers's price is dropping more quickly than yesterday's catch of the day (and we're not talking Davante Adams here).
Then there's Denver GM George Paton, who's been handed the reins after 57 years of John Elway's death grip on the club. He's just signed a 5-year deal; do you reckon he'll start that contract by signing a, likesay, mercurial QB who might rather host a gameshow? Yeah, surrrrrrrrrrrrrrrrrrrre.
Las Vegas Raiders, +700
Those who haven't noticed don't care: Jon Gruden, in an NFL Films retelling of the Victor von Frankenstein tale, has risked all to prove he can reanimate Rich Gannon from the body parts of Derek Carr. If Josh Jacobs hadn't landed in the Mad(den) scientist's lap on Draft Day 2019, Carr'd be going for 60 attempts per game – and about 132 yards.
Well, Aaron Rodgers has surely noticed, surely cares and stop calling me Shirley.
Cleveland Browns, +1000
How much would it suck for Baker Mayfield for Rodgers to be signed to Cleveland? After spending three years earning respectability while taking 91 sacks and getting direction from four different head coaches, Mayfield finally leads an honest-to-Graham Super Bowl contender, a team with a real chance to lose heart-crushingly in the playoffs like they haven't in decades. And now, in the NFL career equivalent of vulturing goal line TDs, Rodgers wants to take over? Come on, general manager Kevin Costner is never going to let that happen.
New Orleans Saints, +2800
Suppose the NFL is finally letting Bountygate bygones be bygones; suppose as well that the NFL is interested in propping up a New Orleans franchise lagging in revenue. Say they've engineered a scheme to get Rodgers onto the prefab Saints roster with the plan to give a face of the NFL one or two more shots at the big prize, à la Peyton Manning.
Which is absolute kooky talk. Conspiracy-level stuff.
I mean, right?
Carolina Panthers, +4000
The big loser in a Rodgers-to-Carolina deal? Christian McCaffrey. From Rodgers's signing day on, the league's premier all-purpose yard accumulator will become the blame magnet/praise deflector for a by the media. Come on, now, hasn't McCaffrey been good to you and your fantasy football team these past four years? (Okay, maybe not 2020, but still.) Don't wish this on him; betting this line is bad juju.
–written by Os Davis