Easiest fake prop bet all offseason: Does the Los Angeles Rams' new logo suck?
Wednesday, 11 March 2020 13:32 EST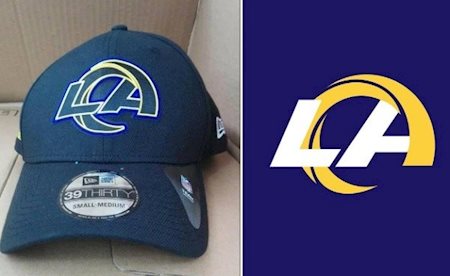 Y'know, NFLbets was working on breaking down the over/under win/loss totals for NFL teams for post, but this post-psychedelic blue-and-green nightmare is eating through my brain to the point of profound distraction.
Seriously, just look at that. Gaze upon the over-designed nightmare, the screwing-with of one of the NFL's all-time classic logos. The yellow version on the right would apparently be the primary logo; this one has been useful in drawing some good snarky comparisons on Twitter – a low bar, we realize – to pasta, Aquaman's hair, a large latter C; and hundred unto thousands to Chargers logo(s).
So here's a proposition bet dedicated to the Los Angeles Rams "brain" trust that came up with this fantastic (not) idea:
When Officially Adopted, Will the Rams New Logo be the Worst* in the League
Yes: -10000
No: +55000
(The asterisk here refers to any logo based on racist elements; after all, no sportsbook is about to debate the definition of "tribute" and/or "homage" to fans of the Washington football team.)
On Draft Day in April, the actual new logo will be revealed – many have speculated that this "leak" may be a bit of guerilla test-marketing or was a rejected idea that was "leaded" in order to deflect criticism from the actual real rebranded logo.
Whatever the Rams new logo turns out to be, NFL fans with any taste at all certainly have reason to fear. Chief operating officer Kevin Demoff has described the new design as having "elements [that] tie to our deep roots in Los Angeles while also providing a sleek, modern look that fits with our new, world-class home."
And there's the secret. Of course Rams management realizes that there's absolutely no need to correct a logo that has, a color change or two notwithstanding, pretty well stayed the same since 1947. But the truth is that the estimated cost for construction of owner Stan Kroenke's Pleasure Palace and Football Stadium have risen from $2.4 billion at groundbreaking to a current project price tag of just nearly $6 billion – and it's still not done.
Now that's a lot of overage, even for world-class cheap-labor employers like Kroenke and WalMart, which means that money beyond the standard ticket-price gouging. And *that* means lots of paraphernalia to move through America's favorite crummy crap store. Thus that preposterous green version, which NFLbets supposes is the new "alternate logo." Yeesh.
NFLbets would definitely advise any NFL bettor to immediately get a $10,000 (minimum loan) and just plunk it all down on YES before the NFL Draft; it'll be the easiest $1 you ever made at the sportsbook…
–written by Os Davis
Get free betting money when you wager on (non-fictional) proposition bets and on games in dozens of other sports worldwide. Enter promo code NFLBETS when depositing to get up to $1,000 in free bets!
Or get a 100% Signup Deposit Bonus for up to $300 in free betting money at XBET.ag – Use our exclusive promo code XBBETS when you sign up.