Defining homefield advantage (if any) for NFL betting in '20
Tuesday, 11 August 2020 13:36 EST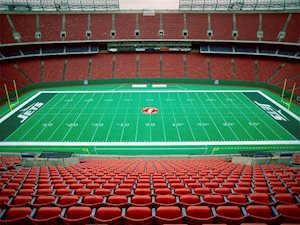 As NFLbets has bemoaned recently, a sharp learning curve will make betting on the NFL in 2020 quite a bit trickier during at very least the first quarter to third of the season. In an attempt to read the tea leaves on what should prove the oddest football season since 1987, NFLbets is again testing out some factors which might(…?) help bettors in '20.
Since the biggest contast between the no-crowds model of Major League Baseball and the NFL versus the bubble model of the NBA and NBA is travel, aspects of home field are especially worthy of attention in the upcoming season. (All odds noted are those listed in MyBookie's "Super Bowl 55 – To Win" proposition bet.)
Consider if you will the effets of…
• No home crowds. MLB and NBA games may run with an undercurrent of piped-in fan noise overlaid with business-as-usual incidental music, but no apparent difference is made to the players. Whether or not home crowds make a difference, the "Los Angeles" Chargers (40/1) stand to benefit. With maybe (maybe!) a handful of fans at every contest in L.A., the Chargers offense has to resort to tactics like the silent count at home, as was the case in week 15 against the Minnesota Vikings last season. (For the record, the 1-point underdog Chargers were smoked SU/ATS by the Vikes, 39-10.)
You'd also think that the Seattle Seahawks (18/1) would be hampered by the lack of their infamous loud-ass "12th Man" as well: The Carroll & Wilson Seahawks are an impressive 53-16 SU and a decent 38-30-1 ATS in all home games since 2012. But last season? Seattle was just 4-4 SU/2-6 ATS and didn't even cover a spread at home until week 9. In 2020, we might put more weight on the actual travel visiting teams are making to play the 'Hawks.
• Homefield advantage/disadvantage. With about a half-dozen games each under their belts, NBA teams are noticing a couple of trends among players: The lack of travel results in more energy, and the bubble state results in more focus. The NFL is taking a page from MLB on scheduling, i.e. not changing a thing, and thus inherent advantages for certain teams should as the Denver Broncos (40/1), who went a nice 5-3 SU/ATS at home, but 2-6 SU/4-4 ATS in away games.
• And, inevitably, weather conditions. In the time of coronavirus, far too many self-styled experts are barging into opinionating on coronavirus; NFLbets will hardly add to the wad by predicting a timeframe for a vaccine and such. However, we should recall some remedial science. To wit: Covid-19 is an airborne virus like, say, influenza or the common cold. A person becomes more susceptible (or, in the case of the coronavirus, *even* more susceptible) to viruses when his/her immune system is tasked with other matters. Natural defenses can be lowered, for example, by exposure to colder temperatures; this is why most folks are well more likely to get a cold in the wintertime.
So in 2020, we'll have professional athletes testing their physical limits in a high-contact sport in, likesay, Foxborough, Green Bay, Chicago, Pittsburgh or Buffalo in December with, for all we know, various spikes in cases throughout the U.S. Again, we're no medical experts, but we'd say more exposure to extreme cold, the more positive tests the team is likely to experience.
We'd start reducing our likelihood of not only the aforementioned teams, but any who play in such climes enough times – so probably the entire AFC East and AFC North straight away. Meanwhile, the big winner in the warm-weather sweepstakes may be – would you know it? – Tom Brady's Tampa Bay Buccaneers (+850 and falling). TB and TB play at Denver in week 1, at Chicago in week 3 and at the New York Giants in week 8 on November 2; beyond these, all Bucs games are in Tampa, south of the Mason-Dixon Line or indoors. And make of this what you will, but Brady-led teams playing outdoors in temperatures of 60⁰F or higher are 77-40 SU; not including games at Miami, that rises to 69-31 for a .690 winning percentage.
Nothing like old folks retiring to California, eh…?