Five picks ATS for your week 1 Super Contest card
Saturday, 12 September 2020 14:27 EST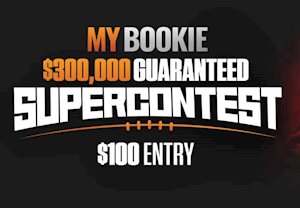 So let's get the plug out of the way first: My Bookie is putting up some big-prize contests for the 2020 NFL season which are actually pretty cool, if a bit long-odds. In the $300,000 Super Contest and $100,000 Super Contest, the object is to pick five games with the point spread included weekly – and may the best bettor win!
Along with the $125,000 and $25,000 top prizes, respectively, awarded at season's end based on cumulative record are cash payouts for the top 320 and 750, along with quarterly prizes. I should also mention because of their sizable quarterly prizes they do allow new players to enter this contest throughout the year up until week 8. And this is where My Bookie makes it worth your while to stick around for the entire season. After weeks 4, 8, 12 and 16, the best quarterly score is rewarded. Otherwise, you might go 3-7 in weeks 1 and 2 while maybe 1,500 participants go 8-2 or better: You're sunk after two weeks of crapshoot, right? Nice wrinkle here.
Frankly speaking, the disproportionately small number of payouts isn't great: Picking 19 out of 20 correct, thereby winning the quarterly prize in the $300K contest, nets a payout of less than 13/1. On the other hand, this parlay card-style betting requires less luck than fantasy football, is a seriously cheap bet (just $6.25/week for 16 weeks and week 17's free!) and you're probably going to be betting these games anyway, right?
On Saturdays in 2020, then, NFLbets presents our card for the week's Super Contest, based on wagers we're placing. Our card for week 1 includes:
Best Bet: Tennessee Titans -2½ at Denver Broncos. With the limited/non-existent crowd at Mile High for this game, bookmakers and Broncos backers alike are depending heavily on thin air, it seems. Seriously, isn't Denver the team playing without an offense this year? Isn't Tennessee the team that closed the 2019 regular season 7-3 SU/6-2-1 ATS, and then beat the Patriots and Ravens in back-to-back playoff games? Is the loss of RT Ryan Conklin – the sole big-name departure from Tennessee in free agency – that huge a deal for Tennessee? Taking the week's biggest WTF game as our Best Bet does give NFLbets pause, but not so much that we'll ignore this generous offer.
Indianapolis Colts -8 vs Jacksonville Jaguars. In previewing the bets for the 2020 opener of Houston Texans at Kansas City Chiefs, NFLbets laid out the heavily weighted stats for big favorites in openers. After the Chiefs' dominant win, favorites of 8 points or more in week 1 are now 15-4 SU, and underdogs are now 13-6 ATS. Could the unlikely happen twice? You bet (literally) – this is 2020, after all, and the Jaguars may be in week 1 of an 0-16 season. PS In an eliminator contest, this is the week you take the Colts.
Atlanta Falcons +2½ vs Seattle Seahawks. NFLbets likes the chances of the dark horse Falcons in 2020 already based solely on continuity of offense, but throwing in the West-to-East travel for a 1pm game and Carroll & Wilson's surprisingly mediocre record in week 1s – since 2010, the Seahawks are 5-5 SU/3-6-1 ATS; with Wilson at QB, they're 4-4 SU/2-5-1 ATS – makes a game with the pointspread of a field goal an easy pick.
Detroit Lions -2½ vs Chicago Bears. As with Indianapolis and Tennessee, NFLbets is here more betting against the opposition than for our chosen side. Any possibilities of a brilliant comeback by Matt Stafford must be counterbalanced with the reality that Matt Patricia is on the sideline for the Lions. Small sample, here, but the Lions last two openers, i.e. those with Patricia, resulted in a 48-17 blowout by the New York Jets and last year's tie against the Arizona Cardinals. On the hand, Mitch Trubisky.
Cincinnati Bengals +3 vs "Los Angeles" Chargers. We're not even one week into the season, and NFLbets is already fairly certain that the Chargers shouldn't be favored against anyone as visitor – regardless of the opposition's recent history. For all the Chargers' touted defensive prowess, the truth is that the "Los Angeles" D was one of the few that registered fewer turnovers and tackles for loss than did Cincinnati's. The Bengals certainly have a decent-enough looking offense before plugging in Joe Burrow, whose LSU games indicate he could well be a badass in the NFL. With next-to-no pass rush and Joe Mixon eating up yards, Burrow's gonna be cool and calm like he's playing SEC ball again.
–written by Os Davis