Week 4 NFL betting: Forget home/away and bet big favorites
Saturday, 03 October 2020 13:28 EST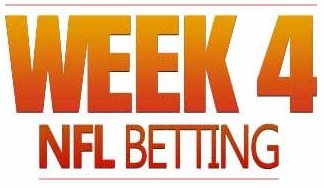 Thanks a lot, coronavirus and/or NFL. Thanks to an outbreak among Tennessee Titans players and staff members, the single easiest no-brainer pick we've seen since Jon Gruden coached his first game in London – taking the 0-3 ATS Titans plus the points while going against the 3-0 SU Titans on the money line – is gone, leaving a slate of 15 pretty uninspiring lines.
(Lots of good material for teasers, though…)
But of course we're betting some old-fashioned point spreads, too. Extracting some diamonds from the rough, we're taking as our Pick of the Week…
Arizona Cardinals -3½ at Carolina Panthers
First off, with so much east-west-east crisscrossing going on this season – this week, seven teams traveled west-to-east or vice versa – we're just factoring right out any sort of advantage/disadvantage in this area.
As for this particular game, NFLbets admits surprise at the Panthers' resistance to what seems to be an inevitable rebuild and for winning without Christian McCaffrey in a 21-16 win over the "Los Angeles" Chargers. But we're just not feeling the same love for the plucky NFC South team that the sportsbooks apparently do: The Carolina offense was outgained by 136 yards and were gifted with four turnovers. If the Panthers are depending on this sort of sloppiness from the Cardinals this week, they're out of luck.
In Kyler Murray's 19 games as a starter, Arizona has given up 3 or more turnovers three times – and Murray has thrown three interceptions in a game just twice. Subjectively speaking, Murray may have turned in his worst performance to date against the Detroit Lions last week, but nevertheless passed for two TDs and ran for a third, while the Cardinals' total offensive production was about 46 yards lower than their season average thus far.
NFLbets is chalking up last week's results for the Panthers and Cardinals to anomalies – or rather statistical probability, i.e. games like these are why 16-0 and 0-16 seasons are so rare. The truth is the Cardinals are the better team; a 3½-point spread isn't great for NFL bettors, but NFLbets says the Cards are a least a touchdown better. Take the Arizona Cardinals -3½ at Carolina.
New York Giants +13½ at Los Angeles Rams
Baltimore Ravens -14½ at Washington FT
Double-digit point spreads such as these may appear intimidating, but numbers show that wagering these games is no more challenging than considering any other bet.
Since 2010, 115 regular-season games have gone off with a pointspread of 13 or more; in these games, the favorite is an expected 102-12-1 SU, but more importantly a respectable 55-60 ATS for a win rate of 47.8%. And if you're even thinking about betting on the Washington Football Team, think again: Not only are home underdogs of 13 or more points a poor 5-9 ATS, the only SU win was by the St. Louis Rams in 2011.
McVay's Rams have only faced double-digit handicaps twice, both in December 2018; for what it's worth, L.A. won both SU/ATS. John Harbaugh's Ravens, incredibly enough, have never faced a handicap this high. In fact, before this week, Baltimore'd only been double-digit regular-season favorites twice, both in December '15. Crazy!
Serious statistics aside, the case for betting the favorites in both games is simple. In the case of the Rams, well … have you seen the Giants play? With Saquon Barkley removed from the equation, Jason Garrett has been fantastic as offensive coordinator – for those betting against the Giants. So far, they're 9 points per game less productive than last year's average offense. "Additionally", in finest recent Giants tradition, this season's OL is not so much protective as decorative; go ahead, guess who's ranked dead last in Football Outsiders' DVOA metric – and by a wide margin, too. These guys are going to try and score on Aaron Donald & Co.? Come on … Take the Los Angeles Rams -13½ vs the Giants.
For the Ravens, we're betting on the Billy Hoyle philosophy: They play better when they're pissed off. The Chiefs handed Baltimore a frustrating defeat on Monday Night Football – frustrating not necessarily because of the L, but in that their pretty hellacious defense was so thoroughly toyed with. Short week or no, Washington FT and their 28th "best" offensive line do not want to be facing these Ravens right now. Take the Baltimore Ravens -14½ at Washington.
NFLbets' current record in 2020: 5-2-2.
–written by Os Davis