Betting over/under proposition bets, part 2: Washington FT, 8 wins
Thursday, 27 May 2021 16:43 EST
With nothing more productive to do for a couple months, NFLbets will begin filling the spacetime with closer looks at several of the over/under win total proposition bet odds. Today's line:
Washington Football Team over/under 8 wins (-105/-115)
Another line, another team upon which bettors look with preconceived notions based entirely in last season. Sportsbooks apparently set this line at 8 wins based on bettors' belief that
• every team in the NFC East will remain just as pathetic as ever (as favorites to take the division, the Cowboys' line in this prop bet is set at 9½); and
• prospective starting quarterback Ryan Fitzpatrick will produce along the same lines as he has throughout his career, i.e. since leaving Buffalo in 2013, he's 35-43 as a starter, which works out to 7.6 wins in a 17-game season.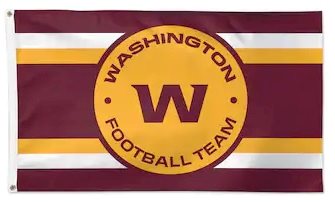 NFLbets doesn't get it.
Right off the top, let's assume everything in the NFC East remains more or less identical by season's end. The 2020 Washington Football Team actually accumulated 8.17 Pythagorean Expectation (PE) wins, indicating a certain amount of bad luck prevented a breakeven win-loss record.
But here's the thing about the 2021 Team: Virtually any change on offense, particularly at that QB position, amounts to improvement. Last season, Washington managed to score 25 points or more just four times: twice against Dallas, one in week 1 against Philadelphia and at Detroit. Alex Smith started six games and managed 6 TDs against 8 interceptions; Dwayne Haskins started another six and finished 32nd of 36 qualifiers in completion percentage. Kyle Allen went for a 4:1 TD to interception ratio but this was unfortunately literal, i.e. 4 TDs and 1 pick.
Even a typical Fitzpatrick season would top the 2020 nightmare: aside from a few patently bad seasons, (e.g. 2013 with the Titans, '16 with the Jets) throws at a 3:2 to 2:1 ratio; over 17 games, Fitz would average 23 TDs against 17 picks – hardly Bradyesque, but likely good for a win or two over .500.
And then there's the defense which responded bigtime to the responsibility of playmaking: With an offense "good" for 30th-most total yards, the D.C. D allowed the second-least yards and closed out the regular season with seven straight games allowing two or fewer TDs. To this frankly ridiculous defense, Washington FT added first-rounder Jamin Davis of Kentucky, considered a top-2 linebacker in this draft, while a gamble was taken on William Jackson, coming over from the Bengals for up to $40.3 million plus over three years.
The Football Team's schedule is hardly among the league's most daunting, either, starting with four games against the Philadelphia Eagles and New York Giants, more rightfully expected to turn in losing seasons again – and check out how Washington closes out this regular season: vs Dallas, at Philadelphia, at Dallas, vs Philadelphia, at the Giants. Seriously, isn't that four or five wins right there?
Furthermore, after facing the Tampa Bay Buccaneers in week 10, Washington might not see another playoff team until, well, the playoffs (depending on how you feel about Dallas) with a schedule of at Carolina, vs Seattle and at Las Vegas followed by the aforementioned five straight games against the NFC East.
In the final analysis, with anything from the offense between Curtis Samuel becoming the savior and a reproduction of 2020, NFLbets doesn't imagine Washington FT finishing with fewer than 8 wins – and probably a couple more. Take over 8 wins for the Washington Football Team.
--written by Os Davis