At 40/1 for MVP, Baker Mayfield is attracting bettors; here are four better bets
Friday, 18 June 2021 15:08 EST
Look, NFLbets likes the 2021 Cleveland Browns' chances as much as anyone, but this is ridiculous:
So far Baker Mayfield is the most popularly bet player to win the MVP by total dollars wagered at William Hill.

That includes a $5,000 wager on Mayfield at +4000 at @WilliamHillIL that would pay out $205,000.

Current odds, trends and more for 2021-22 🏈 MVP futures ⬇️

— William Hill US (@WilliamHillUS) June 15, 2021
The primary arguments for throwing money on Baker Mayfield in the "2021 NFL Most valuable Player" offering are twofold: 1) The Browns are primed for a deep run, and 2) gee, 40/1 is great value. After scoping the top of the table from a representative online sportsbook which currently has the odds on Mayfield at 35/1, however, the NFL bettor can certainly find lots more great value: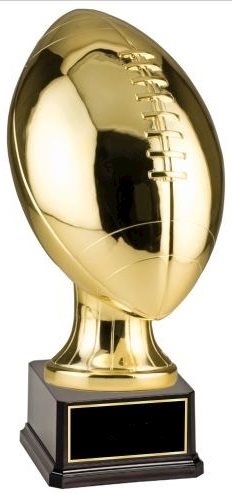 Patrick Mahomes, Kansas City: 4/1
Aaron Rodgers, unknown: 10/1
Josh Allen, Buffalo: 10/1
Tom Brady, Tampa Bay: 12/1
Matthew Stafford, L.A. Rams: 16/1
Lamar Jackson, Baltimore: 16/1
Russell Wilson, Seattle: 16/1
Dak Prescott, Dallas: 17/1
Kyler Murray, Arizona: 20/1
Justin Herbert, Chargers, 20/1
Ryan Tannehill, Tennessee, 30/1
Carson Wentz, Indianapolis: 40/1
Matt Ryan, Atlanta: 50/1
Joe Burrow, Cincinnati: 50/1
Christian McCaffrey (Carolina) and Derrick Henry ( are the non-QBs with shortest odds, both fetching 50/1.
Perhaps you'll agree that Mayfield, even at 40/1, ain't that great a deal…?
After all, in ol' Baker's ostensible breakout season of 2021, the only noticeable statistical improvement was in interceptions surrendered, as the QB went from 35 in his first 30 games to just 9 in 18 regular- and postseason games last year. Otherwise, Baker Year 3 looked numerically a lot like Baker Year 1 in completion percentage, yardage, average yards per attempt and per catch, etc. The kneejerk reaction might be to blame the slight decline on stud WR Odell Beckham's absence after week 7 to injury, but the truth is that Mayfield and the Brown passing offense was ultimately superior statistically post-Becks. Through the first seven games, the Browns were good for 207.4 yards per game and 9 total turnovers; in the final 11, the average jumped to 223.9 ypg with another 9 TOs.
The reasons for Mayfield's good – not great, mind you; *good* -- hardly requires genius, just acknowledgement of more than one way to play football offense – even in 2021. Despite the trends and despite the awesome Beckham-Landry duo there, *the Cleveland Browns are a running team first.* With Nick Chubb and Kareem Hunt having their way on the ground like no one this side of Lamar Jackson, Mayfield's potential heroics are destined for limitation.
Even at 40/1, then, Mayfield for MVP is still too rich for NFLbets' blood. Of course, that's money better invested than in, likesay, the still team-less Aaron Rodgers, who after giving Green Bay the James Harden treatment, Rodgers could get the Houston Texans to 15-2 and not get a vote in this race. Backers of Jackson, Prescott and Murray, meanwhile, had better be graced with nerves of steel (not to mention sufficiently deep pockets) after mostly wildly inconsistent results from each of the trio.
So where does NFLbets see value instead? We'd suggest looking toward the following.
• Matthew Stafford, L.A. Rams: 16/1
Even if we go with conventional wisdom, which suggests that all four NFC West teams will be playoff contenders, the rest of the NFC – and thus wide swathes of the Rams' schedule – looks generally shockingly weak. On top of this, new Rams QB will certainly receive tons of good press for success after running up ridiculous stats for mostly hapless Detroit Lions teams; head coach Sean McVey will be thrilled to employ a quarterback who can function under pressure. Already a fantasy darling, Stafford could run up some seriously gaudy numbers and lots of wins in 2021.
• Patrick Mahomes, Kansas City: 4/1
Uninspired this may be, but how can an NFL bettor not take advantage of the relatively massive 4/1 offered on the best athlete in the game? Hell, we need not even fear any sort of Giannisesque "voter fatigue" after Rodgers snuck off with the trophy last season. Call this bet a hedge: Wager 3 units on Mahomes and 1 each on NFLbets' three other recommendations, and you're guaranteed a payout of at least 2/1 with a win.
• Josh Allen, Buffalo: 10/1
The Buffalo Bills are looking at something of a challenging schedule even before we learn just how competitive Miami and New England will be, but Allen turned into a stat machine in 2020, throwing for 295 yards or more in six of the last eight regular-season games – thanks in no small part to Stefon Diggs, clearly the second-best acquisition of offseason '20. Diggs may be enough impetus to back Allen in this prop, but nearly every key member of the Bills' final four squad is back and the Bills could well enjoy another 13-win season – more than enough to garner lots of MVP votes for Allen.
• Justin Herbert, Chargers, 20/1
Ironically, Herbert's best argument for MVP come season's end could well end up being his Chargers' rival Chiefs. Say Kansas City and "Los Angeles" are neck-and-neck for the AFC West all season, each going 12-2 or 11-3 SU before a second meeting in week 15. Say the AFC West title comes down to a tiebreaker. Say Herbert's stats, particularly yardage and interception/TD ratio are comparable to Mahomes's, like within 5% to 10% – Wouldn't voters find Herbert's accomplishments, done without a supporting all-star cast on offense, a bit more impressive? At half as short a line as Mayfield's, we're liking Herbert's chances in this prop well more.
–written by Os Davis