Pick of the Week: NFLbets despises betting in week 1, but loves the L.A. Rams -4½ at Oakland
Monday, 10 September 2018 12:06 EST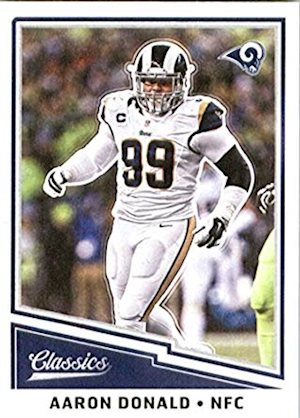 What do you call a gift given way too early? This week, we're calling it "Los Angeles Rams -4½ at Oakland Raiders." Just about the only thing keeping NFLbets from plunking down the entire bankroll on this one is – you guessed it – that it's week 1, the most gamblingest week of the NFL season aside from the last.
But whoa, is it tough to resist this one…
Come on: You've got the prospective NFC Champions, including four or five add-ons who weren't even around last year, who are acting with the swagger of expectations, the valedictorian of the school of Hard Knocks. On the other side, you've got a team deflated by the reality of sudden rebuilding.
On one sideline is Sean McVay, the 2017 NFL Coach of the Year, along with his sidekick (!) defensive coordinator Wade Phillips, also acknowledged as at least a top-3 guy at his job. McVay has both the cajones and confidence enough in his plans and personnel to sit his superstars through the meaningless (for the Rams, anyway) preseason. Across from this, you've got Chucky*, a head coach who hasn't had a winning season since W. was POTUS and who, after years of apparently mindlessly praising Khalil Mack as an absolute force, didn't even take a meeting with the very popular in-house franchise player.
(*NFLbets has previously noted that this is a dated reference and also that we don't care. Chucky-era Gruden was awesome…)
The Rams offense features the 2017 Offensive POY/2018 vogue fantasy football pick in Todd Gurley, a more experienced OL and have added WR Brandin Cooks from the New England Patriots. And the defense? Well, you know. DMVP DE Aaron Donald is back after his holdout and what was perhaps the NFL's most exciting defense in '17 merely added Ndamokung Suh, Marcus Peters and Aqib Talib. Incidentally, the Rams bring perhaps the greatest punter of the 21st century, Johnny Hekker.
Across from this stands a Davis with his empty pockets turned inside out. Lack of cash flow (NFLbets rule #!: Know your budget and stick to it) is rumored to have precipitated Mack's departure and could lead to the jettisoning of Cooper soon, too. No major free agents joined the Raiders this offseason despite the "lure" of Gruden taking over a 6-10 team. As in the post-Rich Gannon (and, come to think of it, post-Gruden) days of the mid-2000s Oakland Raiders, these guys already resemble 53 dudes playing out their contracts on a roster as fluid as a Turkish basketball team's.
Seriously, the 2018 Oakland Raiders – especially after inevitably trading Ameri Cooper – will go down as the league's second-worst.
(The worst? Let's just say that NFLbets didn't need more than a couple of quarters to realize the probability of an 0-16 Buffalo Bills team is very real.)
Those who were prescient enough to take the Rams pre-Mack trade, when the line was a mere -3, are certainly patting themselves on the back and banking on a nice early win. So get in now and bet the Los Angeles Rams -4½ at Oakland. Just don't bet the house: Remember that this is week 1, and week 1 in the NFL is evil…