Super Bowl LV betting – Buccaneers vs Chiefs – Over/under, prediction; teaser bets, props
Monday, 01 February 2021 09:23 EST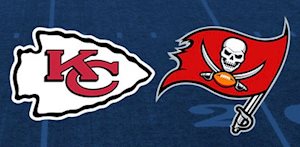 NFLbets is thiiiiiiiiiiiiiiiiiiiiis close to calling Super Bowl LV prediction-proof. Numbers, trends and rationality all wither under the white-hot brilliance of Tom Brady's career. Near as NFLbets can tell, the no. 1 reason in betting the Bucs with (current) lines of
Tampa Bay Buccaneers +3½ vs Kansas City Chiefs, over/under 56½ points
Is "Never bet against Tom Brady." Not exactly the hard numbers we'd rather see, and there are certainly arguments for, likesay, betting on Patrick Mahomes and his all-star offense coached by Andy Reid, but we'll save those for last, because this one's probably a Super Bowl when we'll be doing very little pointspread betting relative to props – and the point total.
NFLbets may as well not bury the lead: Take the over on an O/U of 56½ points or even wait until it sinks to 56 at this rate. Crazy that a single $2.3 million bet on the Buccaneers at BetMGM made headlines but couldn't budge Kansas City -3½, while the over/under has shed ½ to 1 point in the first week since the conference championship games. NFLbets is clearly paddling against the tide on this one.
But hey, since after the wild-card round NFLbets has been pushing the over, no matter the number, regardless of matchup – and for good reason. With four teams remaining in the postseason, not one sported a defense that was top 10 against the pass, against the run or in defensive DVOA. "Defense wins championships"? In 2021, defense may be optional for the winner.
Kansas City is particularly egregious in one statistical area: Though going 10th in points allowed, the Chiefs ranked dead last in red-zone defense – this is what you're giving Brady? Add to this a well below-average defense – they rank 21st in yards allowed despite seeing just the 19th-most attempts – facing off against the increasingly unstoppable Leonard Fournette, and NFLbets expects the Chiefs to be surrendering some points.
But if Tampa Bay is scoring, we can certainly bet on Kansas City keeping pace. Until last week, Mahomes & Co. had done a 7-1 SU/0-8 ATS run which was costly for a lot of gamblers but also sent a distinct message, i.e. the 2020 Chiefs can play any style and always does enough to win. Purely pragmatically speaking, K.C. has scored 27 or more in 5 of the last 9, 9 of the last 14.
The knock, if any, on the Chiefs offense for the second half of the season has been no running game. Fair enough but geez, what will the Bucs D do against Travis Kelce and Tyreek Hill, who caught for a combined 22 catches for 290 yards and two TDs. Hell, NFLbets' latest theory is that the Chiefs allow themselves to get behind 1 or 1½ touchdowns just so they have to throw for the rest of the game.
The point: Both teams are going to throw a lot, both could well be quite successful, and points will be scored. NFLbets may be optimistic here just two years removed from New England Patriots 13, Los Angeles Rams 3 but we're thinking barnburner. In week 7, these teams played to 27-24 in Tampa. Would, likesay, Buccaneers 30-27 or Chiefs 30-27 be an unreasonable result? So we're also saying bet YES in the Both Teams score over 24½ points proposition bet.
One final note. With an over/under this high and a game apparently too close to predict securely, teasers look great. Betting Tampa Bay and the under, for example, gets you lines of Bucs +9½ and under 63 points, while Kansas City and the over gets Chiefs +2½ and over 50½, both extremely tempting bets – so tempting NFLbets covered both…
–written by Os Davis