Betting on 2021 NFL Comeback Player of the Year, sports' feelgood award
Saturday, 10 July 2021 15:38 EST
Ah, the Comeback Player of the Year award: Organized sports' feelgood award acknowledging the valiant effort of the human spirit over the limitations of the body. Or something like that.
More to the point, even better than acknowledging the achievement is winning bets in what can only be classified as a feelgood prop, namely "To Win the 2021 NFL Comeback Player of the Year."
Diving right into the odds, then, the table at a representative online sportsbook looks like so:
To Win 2021 NFL Comeback Player Of The Year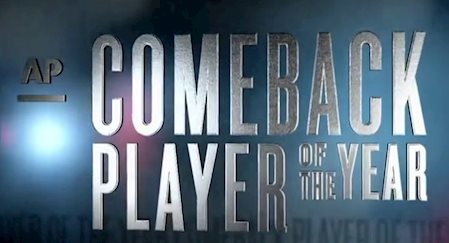 • Dak Prescott +170
• Saquon Barkley +600
• Christian McCaffrey +650
• Joe Burrow +650
• Nick Bosa 7/1
• Carson Wentz 9/1
• Julio Jones 12/1
• Jameis Winston 16/1
• Derwin James 16/1
• Tim Tebow 10,000/1
(Okay, so that last one is made up, but if anyone wants action on Tebow, feel free to contact NFLbets and we'll take it…)
Past history suggests that – get this – a quarterback has easily the best chance of winning this, like all other, NFL player awards. Since the honor was officially restored by the Associated Press in 1988, apparently (and completely justifiably) resurrected so as to give Doug Flutie the trophy, QBs have taken a whopping 14 of 23 comeback awards, including the last three (Alex Smith, Ryan Tannehill and Andrew Luck, in reverse chronological order).
Defensive players have won 4½ times (LB Teddy Bruschi was co-winner with WR Steve Smith in 2005), but only once since 2008. And, reflecting the continued increasing emphasis on passing and the importance of the TE throughout the league, Rob Gronkowski became the first TE to win in 2014, while Jordy Nelson and Keenan Allen were the first receivers to win the award outright, in '16 and '17, respectively.
By NFLbets' reckoning, the line of +170 on Dak Prescott will only decrease after Hard Knocks shows his amazing work ethic and the tremendous rehabilitation he's undergone to overcome his ankle injury, his willingness to tolerate jovial Jerry Jones's old white guy jokes, etc. NFLbets isn't crazy about those very short odds on a quarterback whose team's only consistency year to year, since, like, Jimmy Johnson quit is in their inconsistency.
Julio Jones at 12/1 has decent value, but NFLbets believes that the Atlanta Falcons' willingness to let Jones go despite reupping his long-term QB Matt Ryan means something – likesay, the 32-year-old WR's numbers have been declining over the past two seasons. On the plus side in a Jones comeback bid is the departure of Corey Davis to the New York Jets; Davis was good for 984 yards and five TDs as Ryan Tannehill's second option in a top-5 passing offense.
A Comeback Player trophy win for Saquon Barkley (+600) or Christian McCaffrey (+650) would make the first for a running back since Garrison Hearst (wow) in 2001. The salient argument to back either in this prop is the same: Each is essentially the centerpiece of his team's offensive stats: In 2018, Barkley 1441 yards and 8 TDs in 13 games, representing over 25% of the Giants' total offense and a sliver under 20% of their total touchdowns.
McCaffrey likewise played a full season in 2019, accumulating 2392 total yards and 19 TDs for 40.1% and just over half, respectively, of the Carolina Panthers' totals. All things being equal and assuming both Berkley and McCaffrey are back up to '19 spec, McCaffrey is the better bet in this prop, if only because his on-field success translates very nicely into fantasy football stats – and we'd guess the AP voters play fantasy football…
The aforementioned 2007 NFL Comeback Player of the Year winner was a safety, Eric Barry of the Kansas City Chiefs, a plus for the chances of Derwin James (16/1). James's great value in this prop is certainly down to his standing with a team that most NFL fans are fairly apathetic about and that the more well-known Nick Bosa is also listed on the odds table. Picking Bosa is a bit too chalky for NFLbets' liking, however, and we're not as convinced of the invincibility of Bosa's San Francisco 49ers, either. The "Los Angeles" Chargers could certainly wind up the bandwagon team of 2021, and that bodes well for James's chances in a prop like this.
–written by Os Davis