Week 3 NFL betting: We like Patriots to roll, Falcons to score, Bengals to surprise
Saturday, 26 September 2020 14:51 EST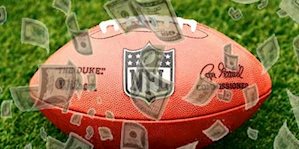 Ah yes, the hole in the clouds … NFLbets sees daylight after the traditional crapshoot of week 1 and overreactive betting of week 2. Our picks have shown the value of betting conservatively – not necessarily in terms of amount of moneys, but rather number of games wagered upon. After two, NFLbets' picks are a nice 4-1-1.
Naturally, the temptations are great, particularly with the week 3 slate. Even accounting for stayaways such as Washington FT +7 at Cleveland and Tampa Bay Buccaneers -6 at Denver, so many good-looking picks are available, it's gonna be hard not to self-destruct. NFLbets will be loosening up a bit on the self-restrictions, though, and taking a chance on at lest one slightly too risky proposition. The following are our Best Bet, Pick of the Week and Longshot Special.
New England Patriots -6½ vs Las Vegas Raiders
NFL bettors have clearly been hammering the Patriots minus the points – the line opened at Raiders +5½ and could hit +7 by game time, and why not? With both teams having completed an East-West-East run (the Patriots went from Foxborough to Seattle and back; the Raiders from Charlotte to Vegas to Massachusetts) and both exceeding expectations early on, wouldn't one have to give a one-touchdown edge in coaching to Bill Belichick?
NFLbets sure would and here's the compelling stat as to why: Following their last 25 regular-season losses dating back to 2011, Belichick's Patriots are an awe-inspiring 23-2 SU and 20-3-2 ATS – against point spreads ranging from New England -8½ to +2½. After a loss, Bellichick's staff seemingly immediately gets to work on shoring up the weak areas which led to the L.
We can assume that the secondary will be, likesay, encouraged to improve week-on-week for week 3, as last week's showing against the Seattle Seahawks represented probably their worst overall in four years. Derek Carr may have had his way with the New Orleans Saints on Monday Night Football, but on a short week will not be prepared for some different looks from the Patriots defense.
Incidentally, Carr has faced the Patriots twice in his career thus far and his Raiders scored 9 and 8 in those games of 2014 and '17, respectively. Take the New England Patriots -6½ vs Las Vegas.
Atlanta Falcons -3 vs Chicago Bears
The hype on the 2-0 SU/1-1 ATS Bears may be completely out of control, but NFLbets is glad it's around. In two weeks to date, Chicago has managed to eke out a combined 44 points against the Detroit Lions and New York Giants, two bottom-10 defenses. This is actually slightly higher than the Bears' average of just under 20.2 ppg since Mitchell Trubisky took over as quarterback in 2017.
On the other side, we may be only two games into the 2020 NFL season, but the Falcons have already demonstrated that they can still run up points on offense (gee, maybe continuity really does matter?) than the Lions even on a bad day: In their last 10 games, the Falcons have put up at least 22 points 9 times. If the Falcons get an early lead – particularly with a defensive score – this could turn into a nightmare for the Bears.
Finallly, there are the simplest numbers of all: Atlanta's 0-2 SU, Chicago's 2-0 SU. NFLbets thinks this very simple metric regresses to the mean this week. Take the Atlanta Falcons -3 vs Chicago.
Cincinnati Bengals +4 at Philadelphia Eagles
NFLbets knows that Joe Burrow's 61 pass attempts – "In his second NFL game ever!!! OMFG!!!!!!" – were more of an act of desperate necessity than any mark of the young guy's awesomess. (Though Joe Burrow indeed has awesomeness aplenty.) But Burrow's persistence, ability to essentially manufacture plays and the pure statistical gaudiness of his performance has got to improve the Bengals on abstract levels at least.
And NFLbets knows that the Bengals' offensive line can't really hold a serious pass rush. Lined up against Myles Garrett et al, the Cincinnati linemen looked like they were giving up about 80 pounds on average. Nevertheless, the Bengals OL still provided Burrow enough time most plays against the Browns – and Philadelphia just doesn't have a serious pass rush.
In fact, NFLbets isn't even sure what the Eagles can claim to bring to the table anymore, anyway. Since the glorious Super Bowl win, the Eagles are on steady decline yearly in virtually all aspects of the game. Their competitiveness against their division mates – 9-4 SU (6-7 ATS) – is the thin thread which kept Philadelphia hanging in the postseason with diminishing returns, two weakass performances in 2020 do nothing to assuage doubts that this tendency will change.
But can we honestly believe that the 2020 Philadelphia Eagles will really start the season 0-3? Absolutely: This franchise has all the hallmarks of imminent rebuild, and this game appears an ideal situation for Burrowmania to snowball. We're gonna take the Cincinnati Bengals Money Line (ML) at +170.
Wait, we're taking the Bengals? Was what that thing at the beginning about playing conservative…?
–written by Os Davis